Library Resources and Additional Topics
By Logan Mitchell
There are many relevant news stories about the history of the 1918 Spanish Influenza in Utah in the Utah Digital Newspaper archive. Here is a search for the term "influenza" from 1917-1920 in the Salt Lake Telegram (this search is were most of the article links below came from):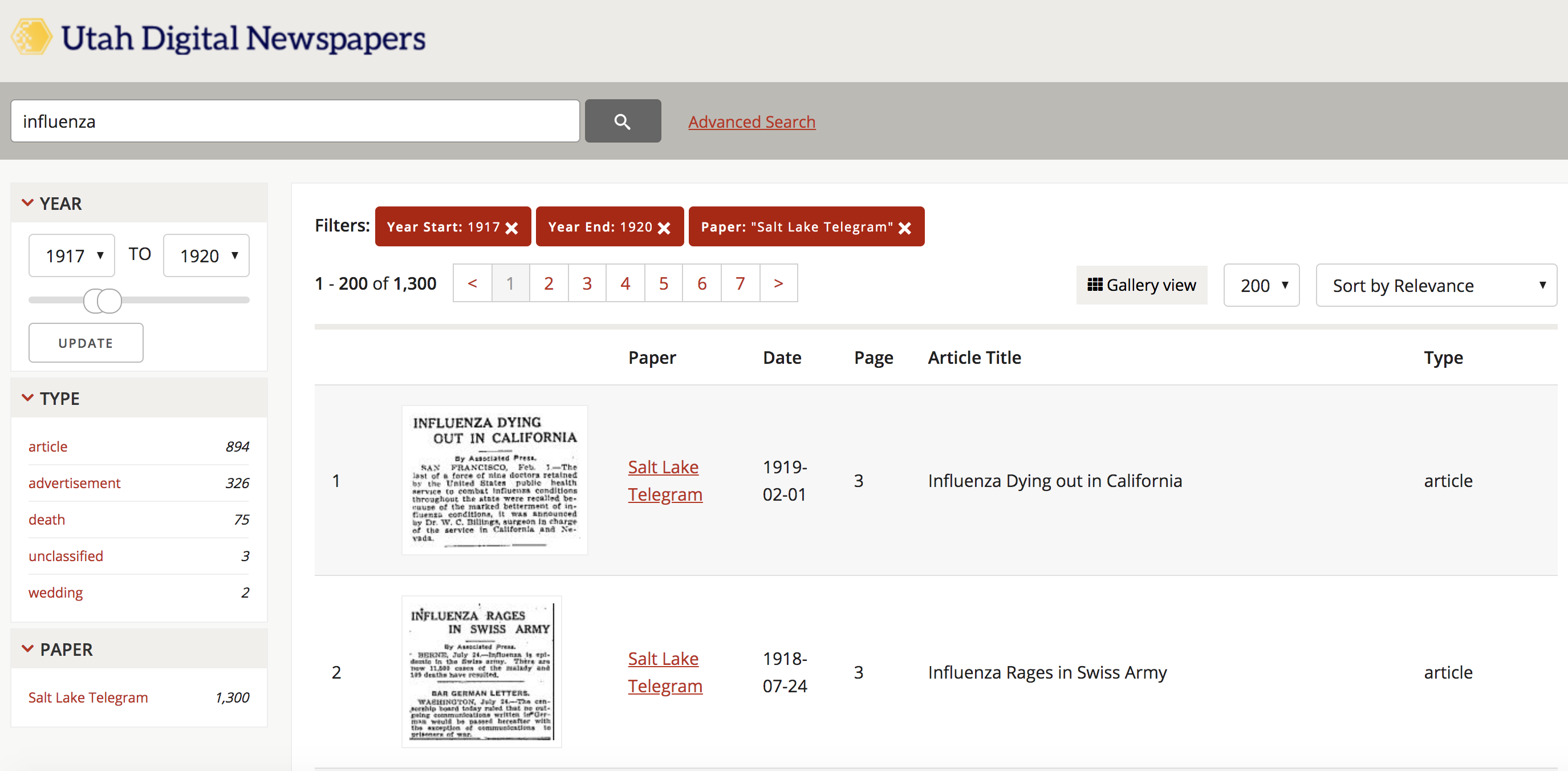 https://newspapers.lib.utah.edu/search?q=influenza&rows=200&sort=rel&year_start=1917&year_end=1920&facet_paper=%22Salt+Lake+Telegram%22
You can remove the Salt Lake Telegram filter to look through other publications at the time also. It is useful to sort the articles by date. All of the links provided here are for specific stories, but you can also look at the full page of that paper, and navigate to the front page of that day, and scroll forward & backward in time by day/edition. For example:
The 1918-11-13 article about lifting the ban noted above can be found here: Article. This article is on page 9 of the paper that day. On the right side under "Contents" you can click on "Page 9" to see the full page, not just that article. You can then scroll up and click on "Page 1" to see what the front page headlines were that day (Nov 13, 1918). You can then click on the "Previous Issue" to and then again on "Page 1" to see the front page from Nov 12, 1918.
More general interest topics to compare COVID-19 and 1918 Spanish Influenza
Here are a sampling of topics to get you started with your research. Happy searching!
Health misinformation being spread in the media that was addressed by local Utah health professionals:
1918-10-16: Influenza's Hold on State Grows. (Note: this has information about Dr. Woods Hutchinson spreading falsehoods about the Spanish Influenza at the time.) Article.
Dr. Woods Hutchinson was a questionable Dr. in Oregon and claimed Influenza was declining. Utah state health commissioner T.B. Beatty had to tamp down that misinformation. Wikipedia article on Hutchinson.
1918-10-17: Red Cross Head Raps Those Who Make Light of Influenza Epidemic.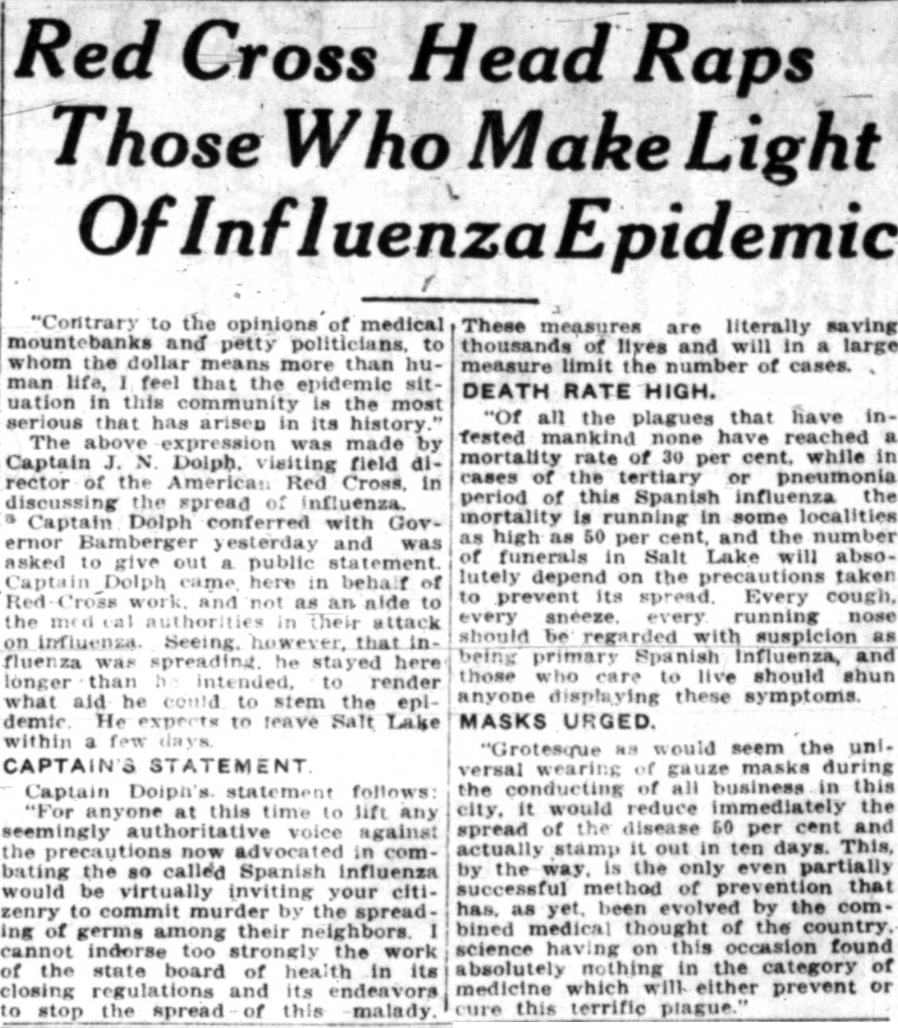 First paragraph: "Contrary to the opinions of medical mountebanks and petty politicians, to whom the dollar means more than human life, I feel that the epidemic situation in this community is the most serious that has arisen in its history."
Mountebank (noun): a person who sells quack medicines from a platform https://www.merriam-webster.com/dictionary/mountebank
Questionable & unproven health remedies:
1918-11-13: Advertisement for Borden's Malted Milk, marketed to help with Spanish Influenza. Article.
1918-11-25: Has Deadly Influenza Germ Been Conquered. Article.
Businesses (theaters) advocating that the ban on mass gatherings stay in place because they know people won't come back until they can do so safely:
1918-11-19: Resolutions Urge Drastic Closing Restrictions. (Note: Theater managers are advocating for keeping everything closed). Article.
Impacts on the 1918 Senate race turnout in Nov 1918
1919-11-04: Hot Political Campaign is Close Today. Article. (Note: election in the time of Spanish Influenza) "The campaign which closed today is admitted by politicians to have been the most unique and unusual in the history of the state. It has been meetingless, speechless and stumpless on account of the Influenza embargo and the fight has mostly been conducted through the newspapers in paid advertising"