Able, Moroni
Biography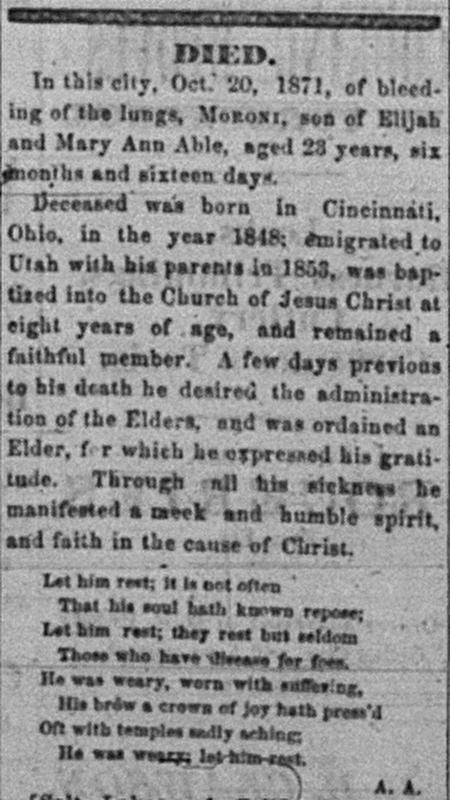 Moroni Able was the oldest child of Mary Ann Adams and Elijah Able. His father was the most well documented nineteenth-century black priesthood holder in the Church of Jesus Christ of Latter-day Saints but because Moroni died when he was only twenty-three years old, his life is less well known. Even still, just days before he passed away, Moroni became the second member of the Able family to be ordained an elder in the LDS lay priesthood.
Moroni was born in Cincinnati, Ohio, on 4 April 1848, fourteen months after his parents were married.[1] In 1853, Moroni migrated with his family to Utah in the Appleton M. Harmon Company when he was five years old.[2] The family lived in the LDS Nineteenth Ward when they arrived in the Salt Lake Valley where Mary Ann and Elijah were both rebaptized.[3] They then moved to Mill Creek by 1857. It was there that Elihu Hiatt baptized Moroni when he was eight years old (less than a month shy of his ninth birthday). Stephen Wight then confirmed him a member of the Church of Jesus Christ of Latter-day Saints on the same day. [4]
Moroni was the only child listed with Mary Ann and Elijah in the 1850 census when they still lived in Cincinnati. The census taker that year described the entire family as quadroon, an indication of Mary Ann's and Elijah's mixed racial heritage.[5] The family had moved to the Salt Lake City Thirteenth Ward by the time the census taker visited them in 1860. Moroni was twelve years old that year and like the rest of the family the census taker listed his race as mulatto.[6] By 1870, the Ables had moved to Ogden, Utah, in Weber County, but Moroni and his sister Anna or Annie were no longer living with the family.[7]
In 1868, Moroni and his younger brother Enoch were arrested in Salt Lake City for drunkenness and fined $5.00 each.[8] Moroni would have been twenty years old at the time and Enoch only sixteen. Enoch continued to live with his parents while Moroni's residence in 1870 is unknown. It is possible that Moroni lived on his own and worked to support himself. Perhaps when his family moved to Ogden, he elected to find his own accommodation. A search for people named "Moroni" in the 1870 census does not yield any results that unambiguously match Moroni's profile.[9] Another possibility is that Anna and Moroni lived together in 1870 and both worked outside the home, a scenario that would have made it more likely that the census taker simply missed enumerating them. In any case, when Moroni died in 1871, he lived in Ogden, perhaps moving in with his family during his final illness.
It is difficult to assess Moroni's level of involvement in the Church of Jesus Christ of Latter-day Saints simply because local church records are sporadic for the wards in which he lived and frustratingly yield few clues. Even still, when Moroni passed away from "bleeding of the lungs" in October 1871, his obituary said that he was "baptized into the Church of Jesus Christ at eight years of age and remained a faithful member."[10]
Moroni's obituary was signed with the initials "A.A.," likely his sister Anna Able who would have had firsthand knowledge of Moroni's life. The details of the obituary match exactly those available in other records. The obituary said that Moroni was "23 years, six months and sixteen days" old at the time of his death, a calculation that harmonizes with the birthdate listed on his baptismal record (4 April 1848). The obituary further details the year of his emigration to Utah as 1853, which corresponds with LDS migration records.[11]
Most remarkably, Moroni's obituary noted that "a few days previous to his death" Moroni "desired the administration of the Elders." The obituary then added that while the priesthood leaders gave Moroni a blessing for his sickness they also "ordained [him] an Elder, for which he expressed his gratitude." It was not unprecedented in LDS ritualistic practice in the nineteenth century for priesthood holders to ordain a sick or dying individual to the priesthood. In fact, six months before Moroni passed away, the Reuben McBride family in Fillmore, Utah, ordained Reuben's eleven-year-old grandson an elder. As Reuben described it in a letter to Brigham Young, "after we became satisfied he would not live we ordained him an Elder."[12]
Such deathbed ordinations were administered as a final ritual or last rite of sorts, to send the departing man into the spirit realm with priesthood authority as he continued his journey through the eternities. By the 1890s, however, church leaders discouraged the practice. An article published in the Juvenile Instructor in 1892 indicated that if a "faithful member of the Church should be suddenly called hence, the fact that he had not been ordained would not deprive him of the reward to which he is entitled."[13] In 1900, the First Presidency and Quorum of Twelve Apostles again disapproved of the practice and hoped that "there will never be occasion again to question it."[14]
Moroni's obituary, nonetheless, indicated that for him the ritual brought a sense of gratitude, and perhaps a sense of peace, during his final few days in mortality. As his obituary writer put it, "through all his sickness he manifested a meek and humble spirit, and faith in the cause of Christ."[15] There is no indication that Moroni's race was a factor in the decision to ordain him an elder. Perhaps his father's ordination was considered a positive precedent in Moroni's favor.
Moroni's obituary concluded with a poem which expressed a desire to let Moroni "rest" from foes, suffering, aching, and the weariness of mortality:
Let him rest; it is not often

That his soul hath known repose;

Let him rest; they rest but seldom

Those who have disease for foes.

He was weary, worn with suffering,

His brow a crown of joy hath press'd

Oft with temples sadly aching;

He was weary; let him rest.[16]
Moroni was laid to rest in the Ogden City Cemetery in an unmarked grave.[17]
By W. Paul Reeve
Primary Sources
Church of Jesus Christ of Latter-day Saints. Record of Members Collection. Millcreek Ward. CR 375 8, box 42, folder 1, image 64. Church History Library, Salt Lake City, Utah.
Church of Jesus Christ of Latter-day Saints. Record of Members Collection. Salt Lake Stake, 19th Ward. CR 375 8, box 4709, folder 1, image 76. Church History Library, Salt Lake City, Utah.
"Died." Ogden Junction (Ogden, Utah). 25 October 1871, 3.
"Editorial Thoughts." Juvenile Instructor, 15 November 1892, 684.
"Home Items." Deseret News (Salt Lake City, Utah). 30 December 1868.
Ohio. County Marriages, 1789-2013. Hamilton County. Elijah Able to Mary Ann Adams, 16 February 1847.
McBride, Reuben. Fillmore, Utah, to Brigham Young, Salt Lake City, Utah. 1 April 1871. Brigham Young Office Files. CR 1234 1, reel 46, box 34, folder 6. Church History Library, Church of Jesus Christ of Latter-day Saints, Salt Lake City, Utah.
Mormon Pioneer Overland Travel. Database. Moroni Able. Church of Jesus Christ of Latter-day Saints.
United States. 1850 Census. Ohio, Cincinnati, Hamilton.
United States. 1860 Census. Utah Territory, Salt Lake County, Salt Lake City, 13th Ward.
United States. 1870 Census. Utah Territory, Box Elder County, Willard City.
United States. 1870 Census. Utah Territory, Weber County, Ogden.
Secondary Sources
Able, Moroni. FindAGrave.com.
Journal History of the Church. 5 April 1900. Church History Library. Church of Jesus Christ of Latter-day Saints, Salt Lake City, Utah.
---
Documents
Click the index tab in the viewer above to view all primary source documents available for this person.