Burton, John
Biography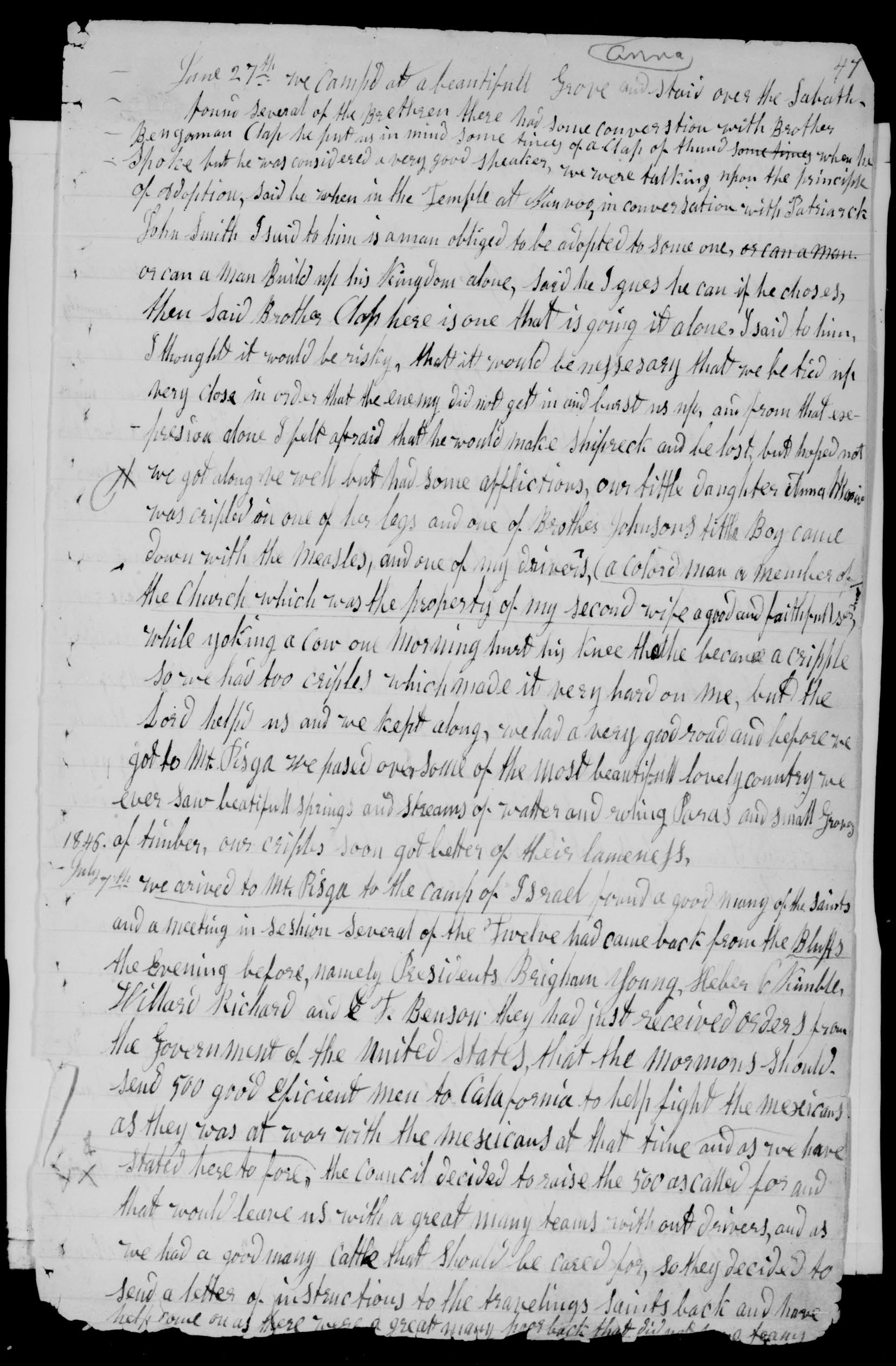 John Smith, Patriarch in the Church of Jesus Christ of Latter-day Saints, gave John Burton a Patriarchal blessing (a formal blessing in the Latter-day Saint tradition that is written and preserved) on 18 August 1850. At the time of that blessing Burton said he was born in 1797 at Campbell County, Virginia to Zachariah and Jenny but offered no last names for his parents. [1] Burton was born into slavery and likely did not know his mother's and father's last names. At some point John Burton became enslaved to John Burton, a white man living in Pike County Missouri and likely adopted his enslaver's last name. Burton, the white enslaver, married Susan McCord on 24 May 1835 in Pike County and brought the enslaved John Burton into the marriage with him. At some point in the 1830s Susan McCord, John Burton, the white enslaver, and John Burton the black enslaved man, joined the Church of Christ, as the Church of Jesus Christ of Latter-day Saints was known at the time. No baptismal records survive.
In 1838, John Burton the white enslaver died, leaving Susan McCord heir to the enslaved John Burton. McCord, her children, and Burton the enslaved man, migrated to Nauvoo following the violent expulsion of the Mormons from Missouri. At Nauvoo they became immersed in the Mormon community. Susan met Joseph Lee Robinson there and became his plural wife before the expulsion of the Mormons from that state. Robinson kept a journal in which he first mentioned John Burton on 27 June 1846, as they were migrating from Nauvoo, Illinois to Winter Quarters, Nebraska:
We got along ve[ry] well, but had some afflictions, our little daughter Anna Maria was crippled in one of her legs and one of Brother Johnson's little boy[s] came down with the measles, and one of my drivers (a colored man, a member of the Church which was the property of my second wife — a good and faithful servant) while yoking a cow one morning hurt his knee that he became a cripple. So we had too criples which made it very hard on me, but the Lord helped us and we kept along. . . . Our criples soon got better of their lameness. [2]
At Winter Quarters John Burton dug a grave for a fellow Latter-day Saint and received tithing credit for his service. He lived in the seventh ward next to Green Flake a fellow enslaved man and Mormon. [3] Robinson sent Burton ahead with the 1847 migration into the Salt Lake Valley so that Burton could prepare a place for his family to live when they migrated in 1848. Burton grew corn in the Salt Lake Valley so that the crop was ready for Robinson and his family when they arrived in October 1848. Robinson recalled his entrance into the Salt Lake Valley this way:
We halted and gazed with much wonder and admiration and with tears and much joy, there was an emotion of feeling in our bosoms that we cannot describe. Suffice to say the valley looked very good to us then, we descended and entered the valley the first of October 1848. I drove into the fort, the brethren had built a fort that they might protect themselves, the next day I went south six or eight miles to see some corn that John our colored man had raised, as he had raised some crop for us so that with what we had brought, we were obliged to make it do us until we could raise something the next season. [4]
Mormon authorities called Robinson and Susan McCord, and by extension John Burton, to help settle southern Utah. They were a part of Apostle George A. Smith's colonizing mission and helped to found the settlement at Parowan, Utah. [5] Burton appears in the 1850 Utah Territorial census in the Robinson household in Parowan (even though settlers did not arrive at the future town site until early 1851). [6] Robinson described an incident that took place on the journey to southern Utah:
It came to pass that in ascending a long and heavy hill on the divide between Salt Lake and Utah valleys our cattle refused to pull their load. As John, our colored man, was tuging away with all diligence, for he was a good Saint, and the little boys helping him (for Susan was a widow with two little boys when I married her) and I came down to him, I saw the situation and told John to unhook the team and drive them them [sic] up, and then back and hitch them on again and I would bring my thousand dollar horses, hitch on, and they must pull it. And the Lord helped us and they feched it up. [7]
In November 1861 when LDS leaders in Parowan decided to build the community's first meetinghouse they sent the clerk to gather donations. John Burton contributed $15.00 to the effort. The clerk scrawled "African" next to his name on the list of donors. [8]
It is not clear when or if John Burton learned that in 1862 the U.S. Congress freed all enslaved people in the territories. He died in 1865, and was buried in the Parowan cemetery. Descendants of the Burton, Robinson, and McCord families claim to retain a letter from Burton to Mary Jane Robinson, a daughter of Joseph Lee Robison who was then living in Farmington, Utah. If the letter is authentic, Burton would have dictated it, as he indicated in the 1860 census that he could not read or write. [9] The letter is dated 28 June 1865, presumably shortly before he passed away, although the exact date of his death has not survived:
Mary Jane, I am glad that you thought enough of me to mention me in your letter. Tell Aunt Maria that I have not forgot her kindness to me. Tell your Father that I was glad he sent me a shirt for I was in want of one. I understand that you have a good prospect of having plenty of fruit. Be so kind as to send me a little if you have a chance. I am suffering with chills and fever, but I feel good in spirits. I rejoice everyday of my life in the spirit of Mormonism. Give my respects to all the family.
Most respectfully,

John [10]
By W. Paul Reeve
Primary Sources
Joseph Lee Robinson Papers, MS 7042, Autobiography, 27 June 1846, Church History Library, Church of Jesus Christ of Latter-day Saints, Salt Lake City, Utah.
Joseph Lee Robinson Papers, MS 7042, Records, 1846-1847, Reel 1, Folder 4, Church History Library, Church of Jesus Christ of Latter-day Saints, Salt Lake City, Utah.
Church of Jesus Christ of Latter-day Saints, Record of Members Collection, Parowan Ward. CR 375 8, box 5250, folder 1, image 18, Church History Library, Church of Jesus Christ of Latter-day Saints, Salt Lake City, Utah.
United States Census, 1850. Parowan, Iron County, Utah Territory.
United States Census, 1860. Parowan, Iron County, Utah Territory.
Secondary Sources
Burton, Donald E. History of John Burton, 1797 – 1865. MS 21263, typescript. Church History Library, Church of Jesus Christ of Latter-day Saints, Salt Lake City, Utah.
---
Documents
Click the index tab in the viewer above to view all primary source documents available for this person.