Flake, Martha Ann Morris
Biography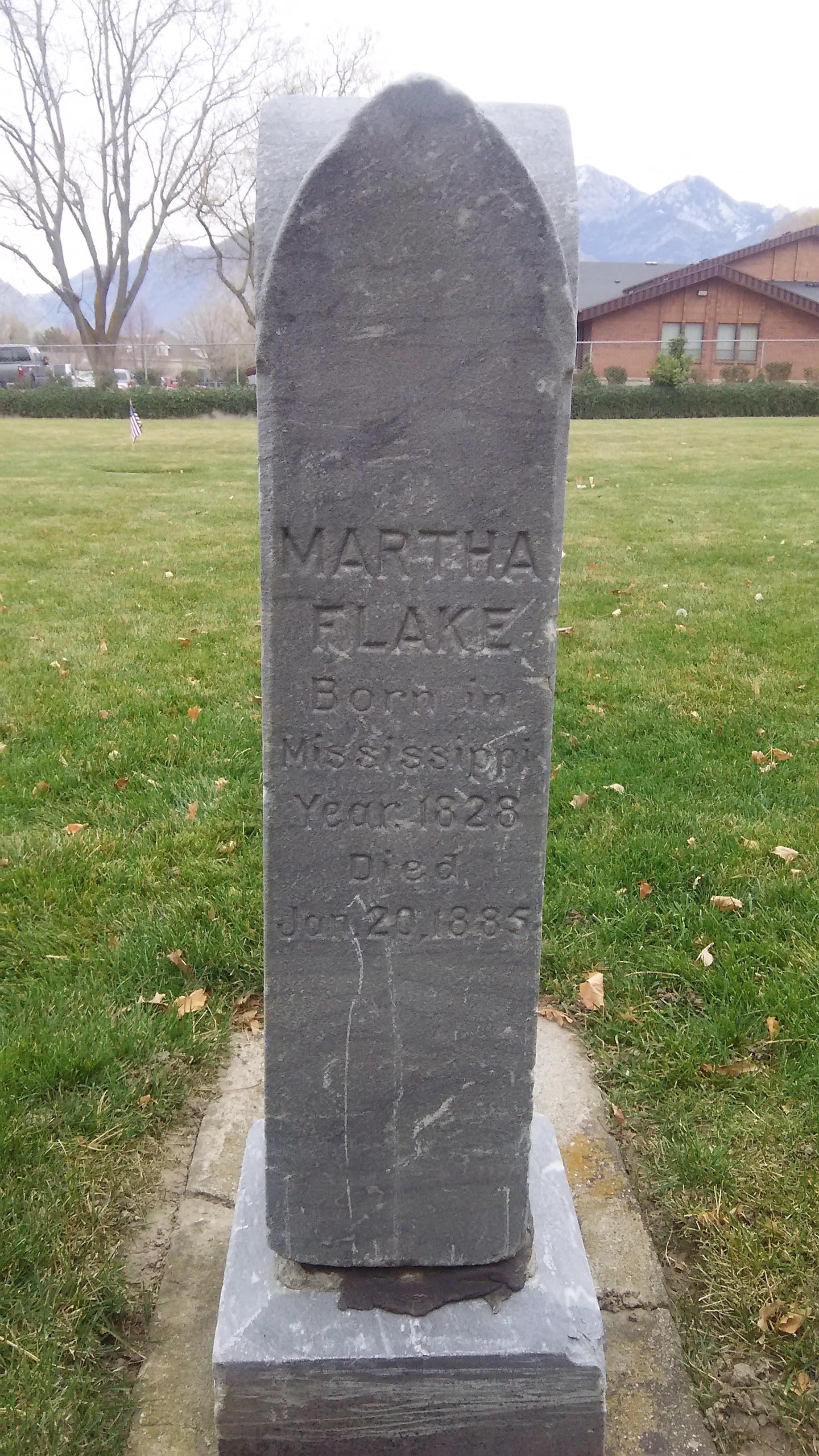 Martha Ann Morris was born in Monroe County, Mississippi in 1828 where she was enslaved to John Crosby. When John Crosby died, Martha became the property of John H. and Nancy Crosby Bankhead. Nancy and John Bankhead joined the Church of Jesus Christ of Latter-day Saints in 1844 and 1845 respectively. Martha Ann Morris may have been baptized around the same time, although a baptismal record does not survive. The assumption that she was LDS is based on the fact that her husband and children were LDS, but to date no record of her LDS membership has been found.
Martha likely migrated to the Salt Lake Valley in 1848 in the Heber C. Kimball Company along with John and Nancy Bankhead, however she is not mentioned in overland records (she appears in the pioneer roster as a number, with no name). Martha is also unexplainably absent from the 1850 census. The date of her manumission is uncertain.
Martha married Green Flake, probably in 1852, though no official verification survives. Few surviving sources mention Martha. Her two children were named Lucinda Vilate Flake, born 1854, and Abraham Flake, born 1860. Census records indicate that Martha "kept house" and no doubt engaged in the difficult work of running a farm with her husband.[1]
Martha died January 20, 1885 in Union, Utah. She and her husband Green are buried in the Union Cemetery in Salt Lake County under the headstone that Green carved for Martha, which reads, "In My Father's House are Many Mansions."
By Benjamin Kiser
Primary Sources
United States, Census. 1860, 1870, 1880, Union, Salt Lake County, Utah Territory.
Secondary Sources
Madsen, Steven K. A Union, Utah History. Union, Utah: Jordan Valley Sentinel, 1981, 46-58.
---
[1] United States Census, 1860, 1870, 1880, Union, Salt Lake County, Utah Territory.
Documents
Click the index tab in the viewer above to view all primary source documents available for this person.