Fleming, Frances Leggroan
Biography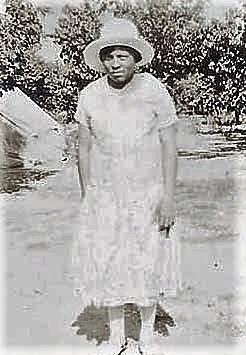 As Frances Leggroan Fleming sat for an oral history interview in 1983, she boasted of her long memory by telling her interviewer, "I don't forget. I'm like an elephant."[1] Nearly eighty years old at the time, she looked back on her relationship with the LDS Church and her family's interactions with white Latter-day Saints and said it had been "rough." She felt that some LDS members wanted to forget the ways in which black saints were treated before the priesthood revelation and claim that the things that happened to her did not happen, but she had not forgotten. "It's better now," she said, but "back then it wasn't . . . so outstanding."[2] She went so far as to say, "We struggled just like Christ did."[3]
Frances Leggroan was baptized as a child, becoming a third generation Mormon on her father's side of the family and a fourth generation Mormon on her mother's. In fact, she was the great-granddaughter of Jane Elizabeth Manning James, an 1847 pioneer into the Salt Lake Valley. Her father, Louis Leggroan, and her mother, Nettie James Leggroan, lived near Milo, Idaho, when she was born in 1906. Her mother, Nettie, died when she was only five years old, leaving behind Frances and her sister, Thelma. Her father soon remarried and Alice Weaver Leggroan became her step-mother. Frances and Alice must have had a close relationship as Frances referred to Alice as "mother" when she spoke of her.[4]
By 1910, Louis Leggroan had moved his family from Idaho to Mill Creek, Utah. It was there, in the Wilford Ward, when Frances was eight years old that she was baptized.[5] Her family's long history in the LDS Church did not stop the prejudice and hurt she experienced growing up among white Mormons who treated her as if she were a second class member. "I was taught you can't go into the temple, you're not the right color. You're not good enough. And then when they had the revelation, it was: 'Come, let's go [to the temple].' I told them, I didn't change my spots that easy. And I had scars even though they weren't where they could see them. I still had them. And to this day I still have my spots, because I can't forgive and forget like you're supposed to. I was hurt too badly."[6] Her encounters with narrow-minded, bigoted Mormons and the wounds they inflicted, however, did not stop Frances from remaining a member of the LDS Church until she died.
Frances grew up on a six acre farm in Mill Creek. At that time Mill Creek was a rural area of the Salt Lake Valley, about eight miles southeast from downtown Salt Lake City. She described her family's primitive living conditions and how remote Mill Creek felt in her childhood. Her father Louis raised his family in "a frame house. Three rooms. No running water. No lights. Coal stove."[7] The Leggroans were quite self-sustaining, despite the circumstances: "We grew everything we needed to eat. We had chicken[s], rabbits, and pigs. We had a couple of geese," Frances recalled.[8] The family had no need to go downtown for food, only for supplies which they could not raise on the farm.
When asked if life was hard, her answer was yes. Frances's schoolmates teased and taunted her. Their actions told her, "You're not as good as I am. You're a different color."[9] The boys were relentless, pulling hair, calling names, making fun of her in any way they could. Frances "fought all the way through high school."[10] Her father gave her an umbrella when she began Granite High and told her to use it to defend herself. After that, she carried it with her, rain or shine. As a result, she tried to limit her interaction with white people to school and church.
In the relative isolation of Mill Creek, she and her relatives made their own fun with get-togethers and dances. This isolation also narrowed religious choices. There was only the LDS Church in Mill Creek. According to Frances, "There wasn't any other church to go to at that time!"[11] She elaborated on the difficulty of attending one of the downtown black churches. The only way to get there and back was the streetcar. "In order to go to the Methodist . . . or Baptist church . . . [you had to take the streetcar and if] you missed the last line up—the Holladay street car, you couldn't get home. So, therefore we didn't go."[12]
In the 1920s, the Holladay streetcar ran from downtown Salt Lake City, south past Mill Creek, and on to Holladay. It was the only transportation in and out of town and it stopped running before midnight. When Frances's future husband, Monroe Fleming, came to visit her from his apartment in town, he had to be sure to leave in time to catch the last streetcar. "Dad would take the clock and . . . would say, 'Monroe, see what time it is. You'll miss your street car.' Monroe would take off."[13]
Monroe, the son of a Mississippi Methodist minister, was not LDS, but Frances said his religion did not concern her Mormon parents because, "If you waited for somebody to be in the church to marry, you'd never marry."[14] The very small population of African Americans living in the Salt Lake Valley resulted in black families intermarrying and being closely related. Frances said that when she married Monroe in 1930, she had chosen from a different pool of candidates. "You certainly don't want to marry a relative. I didn't. . . . I got somebody that wasn't a relative to anybody here. A complete outsider!"[15]
After she and Monroe married and moved into town, they attended the African Methodist Episcopal Church (AME), but Frances did not officially change her affiliation. They had two daughters who went to the AME church with them. One had been badly treated at a predominantly white school. A boy had broken her wrist with no repercussions. Frances hoped to spare them some of the intolerance she had experienced in the LDS Church. "I didn't train my children to go to the Mormon Church. When we lived on the Avenues, we went to the Methodist Church. . . . So, you see, there wasn't anything in the Mormon Church for them. I could weather the storm because I had been in it. I was there when the boat was rocky. . . . But I wasn't going to have my children subjected to that."[16]
As a young woman Frances worked as a domestic in private homes before taking a job running the freight elevator at the Newhouse Hotel in Salt Lake. When she became pregnant with her first daughter, she knew her boss would dismiss her as soon as he learned of her condition. Pregnant women did not work in his hotel! Later, she and Monroe found work at Hotel Utah.
Monroe had heard about the LDS Church while still in the South but his work as a hotel waiter brought him into close contact with Mormon missionaries and LDS General Authorities. In 1935, Monroe converted to the LDS Church. Despite his wife's frustrations with LDS racial policies and the treatment she had received growing up, the couple decided that they could do more good and effect change from inside the faith rather than from outside. As Frances put it, "You could say things and ask questions when you're inside."[17] Her longtime membership in the Church influenced Monroe's decision to join. "That's where I was. See, I was raised in the Mormon Church," Frances stated.[18] After he converted, Monroe became a powerful ally of black men in the LDS Church.
Later in life when Frances tried to explain her experiences to white members of her Church, she was met with disbelief. Sometimes white members responded that she had a negative attitude. Frances was nonetheless independent and refused to remold her views to fit the views of others; when necessary she kept quiet. She had Mormon acquaintances who were kind and respectful but the ones who were not, invited her ire. Despite the prejudice she experienced in the LDS Church, she knew that it allowed her to "expand as an individual. . . . You can apply yourself to anything you want. You're not held back," she said.[19] The Church provided her and her husband, "a complete, different way of life."[20]
In the end, she believed there was good to be found in all the Christian churches she and Monroe had been a part of. What really mattered was, "There's only one God and he's a just God."[21]
Frances died in 1997, at the age of 91. She lies next to her husband and other relatives in Elysian Burial Gardens in Mill Creek, Utah.[22]
By Tonya S. Reiter
Primary Sources
Church of Jesus Christ of Latter-day Saints. Record of Members Collection. Wilford Ward, Part 2. CR 375 8, box 7641, folder 1, image 200. Church History Library, Salt Lake City, Utah.
Fleming, Frances [Leggroan]. Oral interview by Leslie Kellen. Salt Lake City, Utah, 1983. Transcript. "Interviews with Blacks in Utah, 1982-1988." Ms0453. Special Collections. J. Willard Marriott Library, University of Utah, Salt Lake City.
"Fleming." Presiding Bishopric stake census, 1940. CR 4 313. Church History Library, Church of Jesus Christ of Latter-day Saints, Salt Lake City, Utah.
"Fleming." Presiding Bishopric stake and mission census, 1950-1960, 1962. CR 4 316. Church History Library, Church of Jesus Christ of Latter-day Saints, Salt Lake City, Utah.
Utah. County Marriages, 1887-1937. Monroe Fleming and Frances Leggroan, 15 March 1930. Microfilm 429136. Family History Library, Church of Jesus Christ of Latter-day Saints, Salt Lake City, Utah.
United States. 1910 Census. Utah, Salt Lake County, Wilford.
United States. 1920 Census. Utah, Salt Lake County, Precinct 3.
United States. 1930 Census. Utah, Salt Lake County, Salt Lake City.
United States. 1940 Census. Utah, Salt Lake County, Salt Lake City.
Secondary Sources
Fleming, Frances Leggroan. FindAGrave.com.
---
Documents
Click the index tab in the viewer above to view all primary source documents available for this person.