Hager
Biography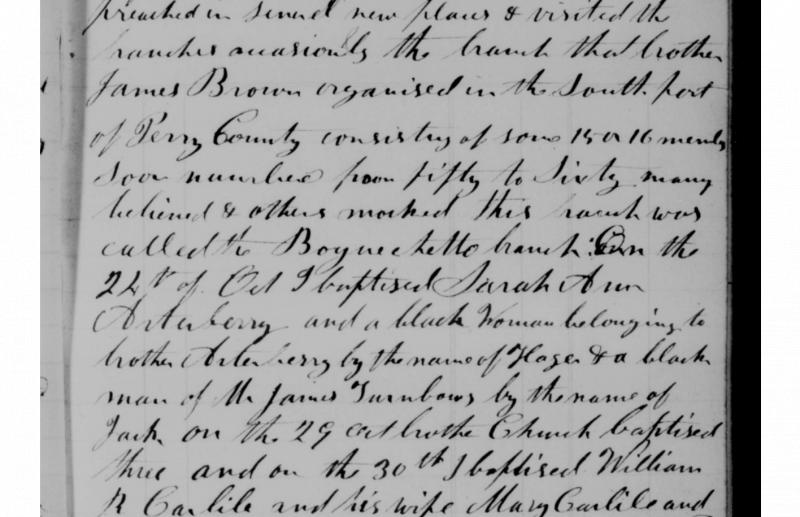 John Brown, a Mormon missionary in Perry County, Alabama wrote in his journal that on 24 October 1843, he baptized "a black Woman belonging to brother Arterberry by the name of Hager." Hager's enslaver, Elias Arterberry, had likely been recently baptized by another missionary, James Brown, who had just organized the Bogue Chetto Branch in southern Perry County. John Brown baptized Hager in connection with two other individuals: Sarah Ann Arterberry, her enslaver's oldest daughter, and another enslaved man named Jack who belonged to a different family. [1] Brown never mentioned Hager again in his journal and her subsequent involvement with the church is unclear.
Because Brown failed to record any information beyond Hager's name, race, and owner, little is known regarding her life and identity. She was apparently born sometime between 1804 and 1816 (making her between 27 and 39 years old at the time of her baptism) and purchased by Elias Arterberry by 1840. According to the 1840 census, Hager was one of two enslaved people enumerated in Arterberry's possession, the other being a male around Hager's age. [2] Arterberry died in 1848 and most of the family—with the exception of Sarah Ann who had gone west with the Latter-day Saints—subsequently moved to Rankin County, Mississippi. [3] Neither Arterberry's widow nor his children claimed people as property according to the 1850 census, so Hager had likely either been sold, freed, or died by that date. The Arterberry family had been plagued with death in the late 1840s with three of the Arterberry's eight children dying of disease in 1845, Arterberry himself dying in 1848, and a fourth child dying in 1849, so it is possible that Hager similarly died sometime between her baptism and 1850. [4]
By Jeffrey D. Mahas
Primary Sources
John Brown, Reminiscences and Journal, vol. 1, 21. Church History Library, Church of Jesus Christ of Latter-day Saints, Salt Lake City, Utah.
United States. 1840 Census. Alabama, Perry County.
United States. 1850 Census. Mississippi, Rankin County.
Secondary Sources
Elias Arterbury (L5F4-5SD), Family Group Sheet, accessed 13 December 2018, www.familysearch.org.
---
Documents
Click the index tab in the viewer above to view all primary source documents available for this person.