Hariss, Sarah
Biography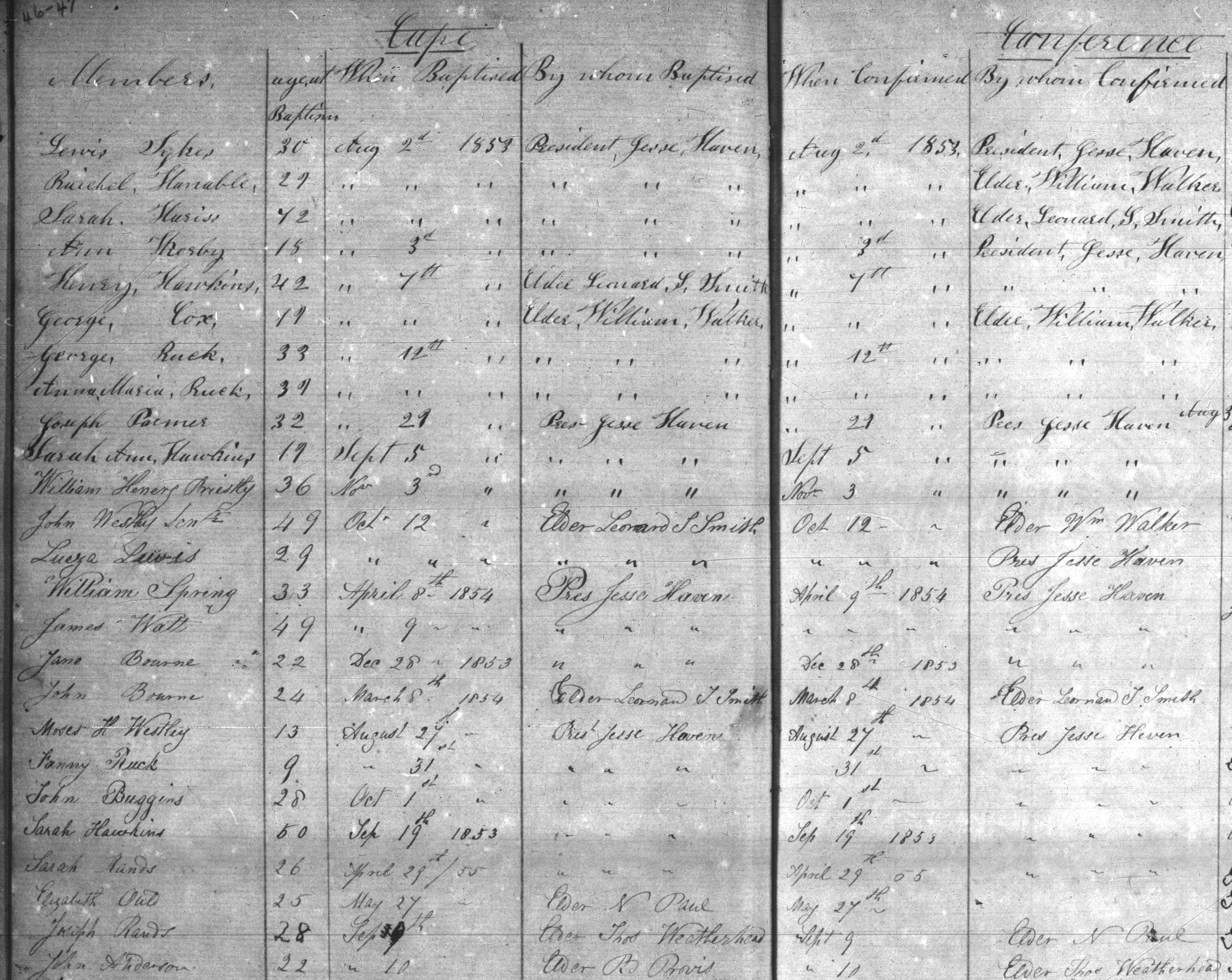 On 2 August 1853, LDS missionary Jesse Haven recorded in his journal, "This morning I baptized three, 2 were colored women. The other one was Lewis Sykes. In the evening I preached at the Paul's on Faith; had a good meeting; I had considerable freedom in speaking. After meeting we confirmed those I baptized in the morning." [1]
While Haven failed to record in his journal the names of the two "colored women" that he baptized, he did record their names in the baptismal log he kept. In that official account he made no indication as to the racial identity of the people who converted to Mormonism. (If Haven used South African racial categories when he wrote "colored," then he would have meant that the two "colored women" were of mixed racial ancestry). It is only through combining what we learn in his journal with the official "Record of the Cape Conference," that we learn the identities of the two "colored women." [2] One woman was Raichel Hanable and the other was Sarah Hariss. Haven recorded very little biographical information about any of the people who converted in South Africa. He only noted their age at the time of baptism (Hariss was 72 and Hanable was 29), the date of their baptisms and confirmations, who performed both rituals, and what LDS "branch" organization the new proselytes belonged to. In the case of Hariss and Hanable, they attended the Newlands, Cape Town branch.
Hariss and Hanable did not remain Latter-day Saints for long. In September 1854 Haven mentioned an "Israelite" who had been through the region and preached the law of Moses. He wrote:
In the afternoon went to Newlands. Called to see sisters Rainer and they both told me that they wished to have their names taken off our books. Sister Watt said the same. The Israelite has been there and convinced them that the doctrine he preaches is correct. He preaches we must keep the law of Moses. I called on three colored women sisters, one only was at home. She said she wanted her name taken off all also . She also said she thought her daughter would want hers taken off also likewise. In the evening I preached at br Bourn's. Spoke on the Book of Mormon.[3]
While it is impossible to know if Hanable and Hariss are two of the three "colored sisters" Haven called on in September 1854, the context makes it likely (he was at Newlands where they had converted and they are the only two "colored" people he mentions baptizing there). Regardless, at some point Haven made a notation next to Hariss's and Hanable's names in his record book indicating that they were "cut off for distancing themselves from us." [4]
By W. Paul Reeve
Primary Sources
Church of Jesus Christ of Latter-day Saints. Record of Members Collection, Cape Conference, South Africa. CR 375 8, box 6498, folder 1, image 13, Church History Library, Salt Lake City, Utah.
Jesse Haven, Journals, 1852-1892, MS 890, Church of Jesus Christ of Latter-day Saints, Church History Library, Salt Lake City, Utah.
---
Documents
Click the index tab in the viewer above to view all primary source documents available for this person.