Harris, Paul Thomas
Biography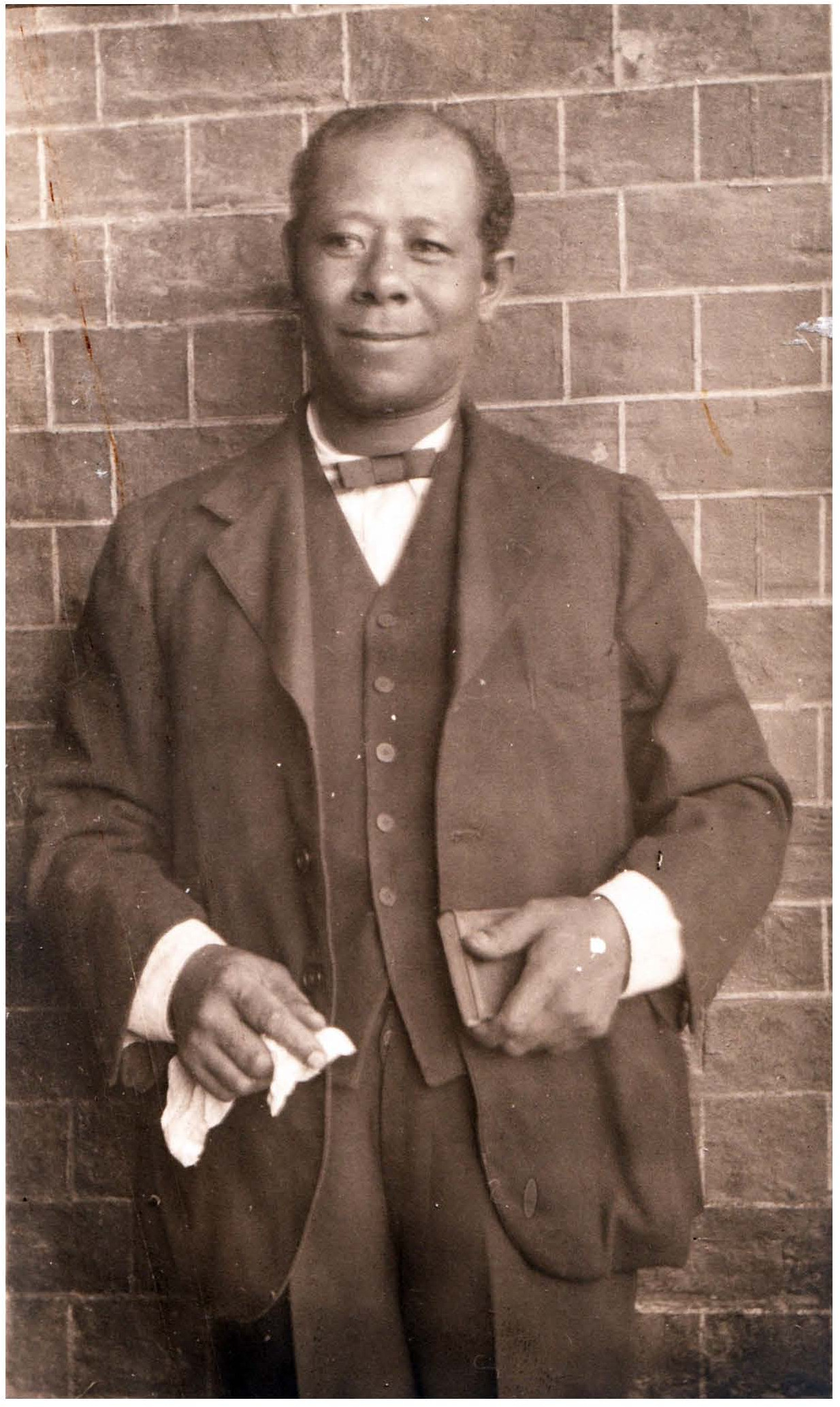 Paul Thomas Harris was born July 28, 1861 to Paul Thomas and Dora Harris. His father and namesake was an American citizen, born in Philadelphia, Pennsylvania. His father lived in New York City for a time before relocating to Cape Province, South Africa. He there met and married a "coloured" (a South African ethnic designation referring to people of mixed ancestry) woman named Dora. It is unclear whether Harris's father was white, black, or multiracial. He passed away in 1876 when Harris was only fifteen years old. Little is known of Paul Thomas Harris's movements until he relocated from Cape Province in the western part of South Africa to Johannesburg in the Transvaal region in 1892. [1]
Harris encountered Mormon missionaries around 1910, was baptized on September 16 of that year by Elder Owen Brough, and confirmed by Brough's companion Austin Houtz the same day. [2] Harris was one of a small number of non-white Latter-day Saints in South Africa in the early twentieth century. [3] Missionaries were generally instructed not to actively proselytize black South Africans. [4]
Because of his race, Harris was not typically welcomed by the white members in his branch. [5] His primary contact with the church was through North American missionaries, who often wrote about their visits with "Brother" Harris. The missionaries met with Harris separately, offering him the sacrament of the Lord's supper, collecting his tithing donations, and sharing testimonies and spiritual teaching. These meetings sometimes occurred at the LDS meeting hall at 39 High Road in Fordsburg after the regular sacrament meeting was completed. In other instances, Harris met with the elders in his home. [6] Missionaries generally enjoyed their meetings with Harris, one opining that Harris had "the biggest heart in the world." [7] They noted his piety and humility. One night during a dangerous storm, Harris "told the missionaries not to be concerned; they got down on their knees and prayed; he asked the Lord to stop the storm until the elders could return to their quarters." [8]
Sometime before 1917 Harris married, though his wife's name is unknown. As of 1917, she had not joined the Church of Jesus Christ of Latter-day Saints. [9]
Harris was a cook by profession. In 1920, he was working at the police barracks in Fordsburg, a suburb of Johannesburg for the equivalent of about $2,000 per year. [10] His skill as a cook endeared him to the missionaries, who wrote frequently of the ample meals he prepared for them. Alexander Stoddard noted that Harris was "some cook" and that he "sure did appreciate" his cooking. [11]
On December 31, 1920, Harris applied for a U. S. Passport at the United States Consulate in Johannesburg. Though born in South Africa, he claimed U. S. citizenship through his father. Harris indicated his intention to relocate permanently to the United States, probably Utah, citing religious reasons for his desire to move. Along with his passport application, he submitted several affidavits signed by acquaintances of his father attesting to his origins, and he listed returned LDS missionaries who resided in Utah as references. He further indicated that he had saved at least some money to pay for the passage to Great Britain and then across the Atlantic. The Consul issued the passport, but for unknown reasons—perhaps his advancing age or the high cost of travel—Harris never migrated to the United States. [12]
Harris suffered from ill health and poverty late in life, after he was no longer able to work. In 1936-1937, local Relief Societies helped provide for his support, though the goods and cash were generally delivered by District President Howard Badger, an American missionary. [13] In at least one instance, Church members appear to have prayed for Harris's health, and his recovery from illness was reported in the mission newsletter. [14] In December 1936, Harris was admitted to the Rietfontein Hospital for surgery on his eye. The surgery was unsuccessful and doctors removed his eye. [15]
Paul Thomas Harris passed away on February 14, 1938 of a stroke at age 76. [16] A funeral was held at his home on the 16th, conducted by his branch president, Ora Layton Alldredge, a former missionary. [17] On January 22, 1974 and April 19, 1975, proxy temple ordinances were performed for Harris in the Mesa, Arizona and Los Angeles, California temples, including priesthood ordination and the temple endowment. [18] It is likely that those who performed the ordinances for Harris were unaware of his race, given the Church-wide proscription against ordaining men of black African descent that remained in place until June 1978.
By Matt McBride
Primary Sources
Badger, Howard Carl. Journal (1914-1917). Manuscript. MS 25826. Church History Library, Church of Jesus Christ of Latter-day Saints, Salt Lake City, Utah.
Church of Jesus Christ of Latter-day Saints. Record of Members Collection. CR 375 8, Reel 6498. Church History Library, Church of Jesus Christ of Latter-day Saints, Salt Lake City, Utah.
"District Highlights, Transvaal." Cumorah's Southern Messenger, vol. 12, no. 3. (March 1938), 47.
Sharp, June B. Journal, 1913-1915. Manuscript. MS 14361. Church History Library, Church of Jesus Christ of Latter-day Saints, Salt Lake City, Utah.
________. Photograph album, 1910-1929. PH 8472. CHL.
Smith, Nicholas Groesbeck. Journal, 1915-1921. Manuscript. MS 8816. Church History Library, Church of Jesus Christ of Latter-day Saints, Salt Lake City, Utah.
Stoddard, Alexander Lester. Journal, 1916-1919. Manuscript. MS 7365. Church History Library, Church of Jesus Christ of Latter-day Saints, Salt Lake City, Utah.
"Transvaal District." Cumorah's Southern Messenger, vol. 11, no. 1 (January 20, 1937), 14.
United States. National Archives and Records Administration. Passport Applications. Paul Thomas Harris, December 31, 1920.
Secondary Sources
Krikler Krikler, White Rising: The 1922 Insurrection and Racial Killing in South Africa (Manchester, UK: Manchester University Press, 2005).
Mehr, Kahlile, "Name Extraction Program," Encyclopedia of Mormonism, 4 vols., edited by Daniel H. Ludlow (New York: MacMillan, 1992)
Rogers, Orson M. "Native Races of South Africa," Improvement Era, vol. 12, no. 8 (June 1909), 625-635.
Stevenson, Russell, For the Cause of Truth and Righteousness: A Global History of Blacks and Mormonism (Salt Lake City: Greg Kofford Books, 2014).
Wright, Evan P. "History of the South African Mission, Period II, 1903-1944." Typescript. Church History Library, Church of Jesus Christ of Latter-day Saints, Salt Lake City, Utah.
---
Documents
Click the index tab in the viewer above to view all primary source documents available for this person.