Hope, Len
Biography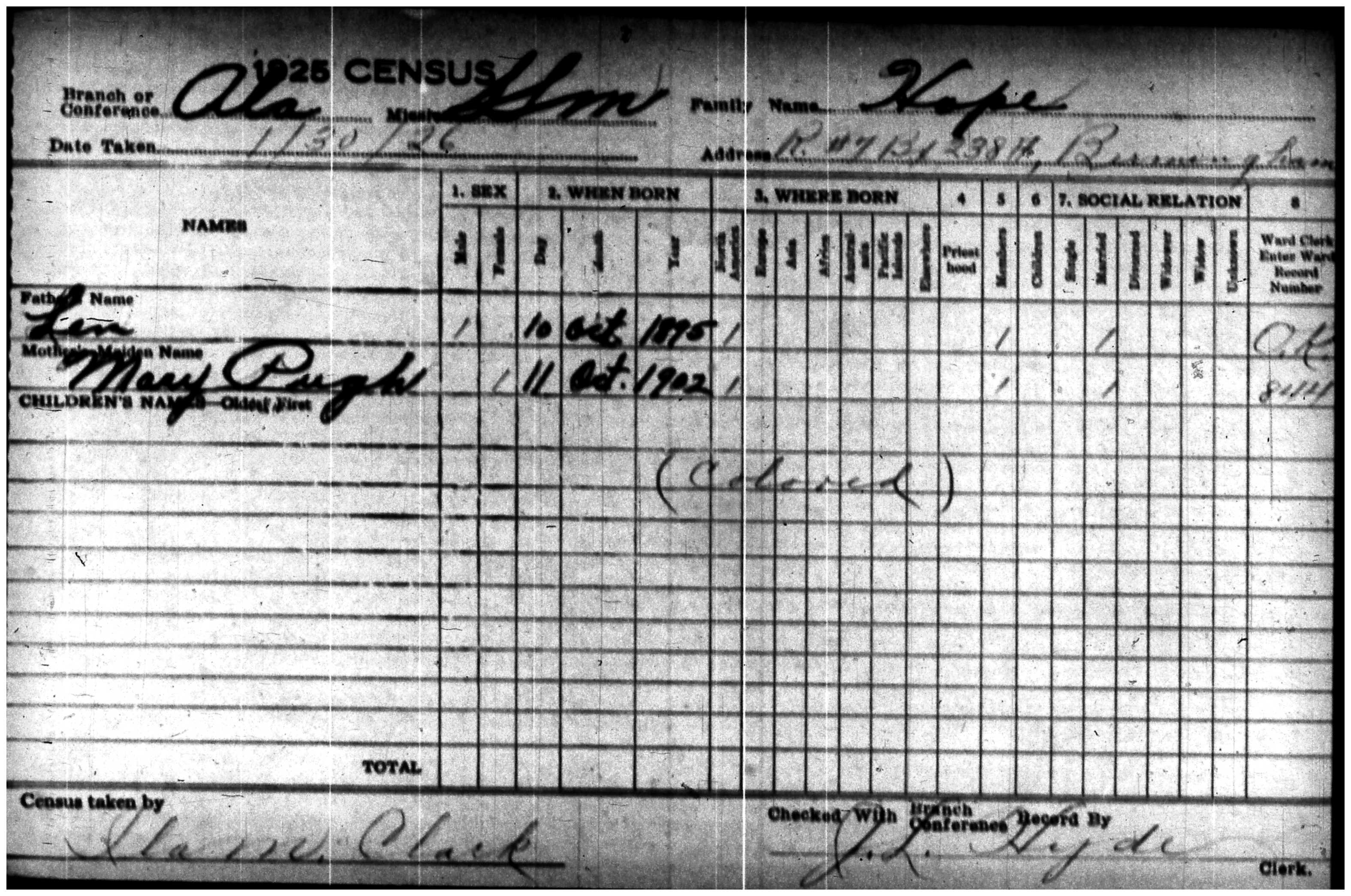 Len Hope was born on 10 October 1895 in Magnolia, Alabama to Jim Hope and Anna Buffett. [1] In 1938, he described himself as a man who sought religion in his younger years. Hope wrote that in the course of his seeking he sought out the Baptist Church and "went up to the moruners [sic] bench to be prayed for every day for about two weeks." [2] However, attending the mourner's or "anxious" bench did not provide him the religious solace he desperately wanted. [3] He would go to a nearby cotton field and lie on his back, looking up at the stars and "begging our Heavenly Father for religion." He eventually received baptism, likely in the Southern Baptist faith, but had dreams that he would be baptized again. [4]
Hope continued to read the Holy Bible and was struck by a verse in Acts 2, which he paraphrased, "When the day of Pentecost was fully come at Peter's preaching, they were convinced and asked what should we do to be saved. First, you must have faith, second repentance, third be baptized, fourth you shall receive the Gift of the Holy Ghost." [5] He asked preachers how to receive the Holy Ghost and one clergyman told him that he must pray to receive it. So, while reading enough of the Bible that people told him "'if you don't stop reading so much you will go crazy," he prayed in a secluded spot in the woods where "the trees and bushes were very thick." He received a spiritual experience that he took to mean that the Holy Ghost could only be bestowed by men "having divine authority." [6]
While Hope was fasting for an answer to his prayer, a Mormon elder stopped by the cotton field where he worked and gave his sister a tract that he remembered being entitled "The Plan of Salvation." [7] He read the missionary periodical and "knew it was the truth," because he recognized what the missionaries had promised him when he read the book: "a small voice telling you to feel as wise as a serpent, harmless as a dove, bold as a lion and humble as a lamb." [8] He learned that the Elders had been commissioned to baptize with water and confirm the Holy Ghost and requested that he be able to participate in those rites. They told him they would "gladly" do so, but that he should "read a little more." He read the remaining scriptural canon of the LDS Church, but before receiving baptism, served in the United States Army in World War One. [9]
He fought on the firing lines in Europe, and, having had many near-death experiences, immediately sought out baptism when he returned to the United States. [10] On June 22, 1919, Elder John M. Tolbert baptized Len at Lamison, Alabama, and Horace J. Knowlton from Salt Lake City, Utah confirmed him a member of the LDS Church. [11] He remembered, "I had another vision or dream that the Elders work had been recognized in heaven and my sins had been forgotten and my name was written in heaven." Shortly thereafter, a group of white men came to his brother's house where he was staying and warned him that he must remove his name from the white church he had joined or that they would "hang you up to a limb and shoot you full of holes." When he told his local church this, he remembered them saying that they could not remove his name if they wanted to (the records were in Salt Lake City) and that, regardless, his name had been written in heaven. He later wrote, "So the mob did not come back but if they had come back I could have gladly died for the faith so I know that Joseph Smith is and was a true Prophet of God and God the Father of our spirits and Jesus Christ is the son of God." [12]
In 1920 he married Mary Lee Pugh, who was baptized five years later. They moved from Alabama to the Cincinnati, Ohio suburb named Sycamore in the Great Migration, seeking better employment and safer living circumstances (Len took a job at a cotton mill and later worked as a car unloader at an asbestos shingles plant. He also worked as a machine operator at a paper mill). [13] In 1935, a notice in the Cincinnati Enquirer indicates that Len and Mary purchased lot 180 in the Lincoln Heights subdivision of Sycamore Township and by 1940 Len owned his home, valued at $2,500. [14] The Hopes only rarely attended the LDS Cincinnati Branch, though different white members remember different reasons for their sparse attendance. [15] A missionary serving in Cincinnati, who later became an LDS General Authority, said that the Hopes were never told not to attend, but that they knew "they were not to be there." [16] They reportedly attended for special events like district conferences, and even prepared ribs and homemade ice cream to share when they worshipped with white Latter-day Saints. Despite the prejudice of segregation, Apostle Mark. E. Peterson later affirmed that the Hopes paid $1.50 tithing every week. [17] They also faithfully held monthly testimony meetings in their home, hosted instruction afterwards, and then fed those that attended. [18]
The Hopes remained in Cincinnati until lung disease forced Len into retirement in 1947, when they moved to Utah. By that time, a former missionary in Ohio remembered that Cincinnatians had begun to treat them with more respect. [19] They became members of the Millcreek Stake, a section of Salt Lake County where Black Mormons like Green and Martha Flake had settled years before. [20] Len attended High Priest meetings, so as to meet with others his own age. He passed away from complications of his lung disease in September 1952. His funeral was held in the LDS Millcreek First Ward chapel with Bishop Melvin J. Burt officiating. [21] Len never received the priesthood and he was not sealed to his family while in life. He was remembered as a "pure, beautiful, patriotic, heroic man who was ready to give his life rather than surrender his [Church] membership." [22] His wife, Mary, and his children, later moved to Philadelphia. His children became Muslim later in life. [23] According to Mary's last bishop, Len and Mary would have "loved to have been Latter-day saints in a full sense," presumably meaning fully welcome in fellowship and able to participate in temple rituals. [24]
By Joseph R. Stuart
Primary Sources
Church of Jesus Christ of Latter-day Saints, Record of Members Collection. Alabama. CR 375 8, box 34, folder 1, image 53, 264, 265. Church History Library, Salt Lake City, Utah
"Hope." Presiding Bishopric stake and mission census, 1914-1935. CR 4 311. Church History Library, Church of Jesus Christ of Latter-day Saints, Salt Lake City, Utah.
"Len Hope," Salt Lake Tribune, 19 September 1952, 55.
"Marion D. Hanks, oral history interview." MSS 7752. Charles Redd Center for Western Studies, oral history project records. L. Tom Perry Special Collections. Harold B. Lee library. Brigham Young University. Provo, Utah.
"Real Estate Transfers," Cincinnati Enquirer, 6 June 1935, 23.
"Testimony of Len R. Hope and Mary Hope, 1938." Ms 20111. Church of Jesus Christ of Latter-day Saints. Church History Library, Salt Lake City, Utah.
United States. 1910 census. Alabama, Marengo County, Hampton beat.
United States. 1920 census. Alabama, Mareno County, Precinct 13.
United States. 1930 census. Ohio, Hamilton County, Sycamore.
United States. 1940 census. Ohio, Hamilton County, Sycamore.
United States. Alabama. Marengo County. World War I Registration Card for Leon Hope.
United States. Social Security Applications and Claims Index, 1936-2007. Entry for Len Ross Hope.
Utah. Death Certificates 1904-1961. No. 03567, Len Hope.
"Veterans with Federal Service Buried in Utah, Territorial to 1966 ." Database at FamilySearch.org, Salt Lake City, Utah.
Secondary Sources
Balmer, Randall Herbert. Encyclopedia of Evangelicalism, rev. ed., "Anxious Bench." Waco, TX: Baylor University Press, 2004.
Carter, Kate B. The Story of the Negro Pioneer. Salt Lake City: Daughters of the Utah Pioneers, 1965.
Coleman, Ronald G. and Darius A. Gray. "Two Perspectives: The Religious Hopes of 'Worthy' African American Latter-day Saints before the 1978 Revelation." In Newell G. Bringhurst and Darron T. Smith, eds. Black and Mormon. Urbana: University of Illinois Press, 2004, 50-59.
Embry, Jessie L. Black Saints in a White Church. Salt Lake City: Signature Books, 1994.
---
Documents
Click the index tab in the viewer above to view all primary source documents available for this person.