James, Silas F.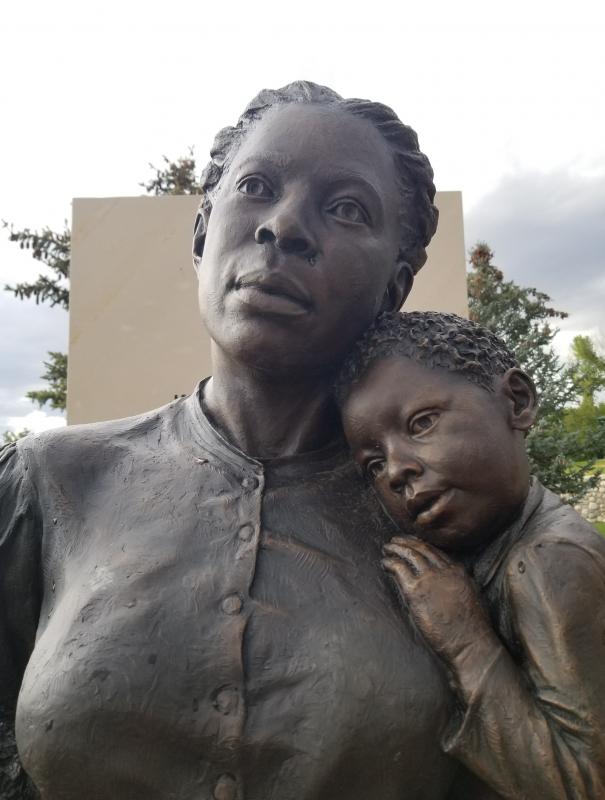 Biography
On June 10, 1846, Silas James entered a world in motion. Born near the banks of the Nishnabotna River, he took his first breaths amidst the wild grasses and meandering waters of the Iowa prairies.[1] The small contingent of families camped by the river numbered among the thousands of displaced Mormons in camps strung from Nauvoo, Illinois to the western edge of the Missouri River. The James family—Silas's mother Jane, father Isaac, and seven-year-old half-brother Sylvester—were among the earliest Black members of the Church of Jesus Christ of Latter-day Saints. Political tensions persisted following the death of the church's leader and founding prophet Joseph Smith, Jr. two years prior. That tension ultimately forced the James family to leave Nauvoo in the late spring of 1846 and join the great westward migration of Latter-day Saints.[2]
Silas's birth several weeks into their journey across Iowa allowed little rest for Jane. Just one day after she gave birth to Silas, Jane and her family resumed their trek west. We can imagine her wearily wrapping her tender-skinned infant close to her body, sheltering him from the sun and mosquitoes as they walked to the next camp. Over the next three days, Silas traveled as a babe-in-arms over twenty-six miles before reaching Council Bluffs on Iowa's western edge.[3] Together with the gathering body of Latter-day Saints, the James family wintered there until the spring of 1847.[4]
One week after Silas marked his first birthday, his family decamped at the Elkhorn River and began the long, overland trail to the Great Basin in Mexican territory. Although Silas may have been old enough to take a few steps, he likely made the three-month journey jostling along in the James's borrowed wagon or in the arms of his parents or brother Sylvester.[5] Their company descended into Salt Lake Valley on September 21 to the sight of a nascent city: a fort, the "Temple block," and dozens of lots dotted with adobe and timber homes. Silas and his family would eventually make their home along the north side of the Temple block on property likely owned by church leader Brigham Young.[6] It would be the first home Silas knew.
The following year, Silas graduated from "baby" to "big brother" when he was not quite two years old. Over the span of six years, he would welcome three younger sisters.[7] An 1855 document detailing the occupants of church president Brigham Young's household, enumerated the James family—including all the children—as "Help." We can imagine a bustling home with young children underfoot, with Isaac and Jane stretched between the demands of their own family and the labor they provided for others. From an early age, Silas, along with his older brother Sylvester, almost certainly took on childcare, household chores, and work responsibilities beyond their years.[8]
The James's proximity to Brigham Young offered some protection, but it did not shield the family entirely from deprivations. Recalling this time, Silas's mother Jane said, "Oh how I suffered of cold and hunger, and the keenest of all was to hear my little ones crying for bread and I had none to give them."[9] Silas and his siblings were not alone in their want for food. For many such children of Latter-day Saint pioneers, the "wolf hunger" could not be kept from entering the door.[10]
In the fall of 1854, Briant Stringham, a leader in the Salt Lake 13th Ward baptized eight-and-a-half-year-old Silas James into the Church of Jesus Christ of Latter-day Saints[11] His participation in this foundational Latter-day Saint ritual spoke to the James's involvement in their religious community and willingness to abide by its doctrines.[12] Ironically, Silas's baptism also signaled his father Isaac's ultimate exclusion from the church's lay priesthood. Two years prior to Silas's baptism, church president Brigham Young declared that "this people that [are] commonly called Negros are [the] children of Cain, I know they are; I know they cannot bear rule in [the] priesthood."[13]
Young's priesthood exclusion policies hardened in place over the course of the nineteenth century and may have created barriers in the family Silas grew up in. According to historian Quincy D. Newell, "Isaac could not bless any of the couple's children when they were born, nor could he provide blessings for his family members when they were ill."[14] We don't know what impact this exclusion had on Silas, but we can imagine that such discrimination may have weighed on his young mind as he imagined a future life in the church.
By 1856, ten-year-old Silas and his family left Brigham Young's property and moved to their own home in Salt Lake's First Ward. As Silas grew into a young man, his responsibilities in the home increased, especially as the family acquired two oxen, a cow, a hog, and several chickens.[15] But what of his life outside the home? Extant records make no mention of Silas's social interactions and relationships with his peers and neighbors. Silas's mother Jane enjoyed close church associations, and perhaps Silas, too, had friends with which to run, play, and explore once the daily chores were done. Given the family's racial identity and status as "help" to both the Joseph Smith, Jr. and Brigham Young households, however, it is likely that Silas experienced some degree of social alienation during his childhood.
In 1857, eleven-year-old Silas welcomed a baby brother, Jesse Jereboam, into the home, and two years later, his youngest sibling Vilate joined the family.[16] From twenty-year-old Sylvester to newborn Vilate, their household of nine was not unlike typical families of this era. As "the church of childhood," religious homes in the nineteenth century functioned as sacred spaces where families performed everyday prayers and devotions.[17] Racially based restrictions prevented Isaac and Jane from full participation in many aspects of church ritual and liturgy, but these limitations could not preclude the James family from freely exercising their faith and spiritual gifts in the home. Despite these conditions—or perhaps because of them—the James home was a valued site for their family's everyday religious practices. As a woman of spiritual gifts and enduring faith, Jane's influence undoubtedly shaped the spiritual atmosphere of Silas's upbringing.[18] "[T]he Lord was with us and gave us faith and grace to stand it all," Jane wrote of her family.[19] If their home was open to our view, perhaps we could see such acts of faith and grace taken up in her own hands.
In the 1860s, Silas grew into adulthood against the backdrop of the Civil War in the East. The passage of the Thirteenth Amendment in 1865 surely gave Silas reason for a more hopeful future. At the same time, signs of fracture crept into the James household. Around 1865, his older brother Sylvester married, and his younger sister Mary Ann also desired to leave home. For most of Silas's life, the geographic isolation of Utah Territory enabled Latter-day Saint leaders to monopolize the social, economic, political, and religious landscape. By the late 1860s, however, railroad travel—and the diverse interests that came with it—chipped away at Brigham Young's theocratic hold on the region. Perhaps attracted to these changes, Mary Ann left for Corrine, a railroad boom town one hour north of Salt Lake City.[20] While living in Corrine, she had a son who she named Isaac. Even as his siblings began to move away from home, Silas, who was twenty-three years old in 1870, remained with his parents.[21]
Perhaps Silas had good reasons to stay at home. Now, as the eldest child in the household, he was likely the most cognizant of the troubles emerging in his parent's marriage. We cannot know for how many months or years the marital conflict between Jane and Isaac persisted before a judge granted them a divorce in March of 1870. We can, however, reasonably conclude that their inability to "live together in peace and union" reverberated through the entire James household.[22] When Isaac moved out of the family home following the divorce, Silas may have felt anger and sadness. He also may have felt profound relief. No matter his feeling, Silas surely felt a sizeable portion of family responsibility shift to his shoulders.
The discovery that Silas had contracted tuberculosis surely compounded his burdens. It is difficult to pinpoint the precise time that Silas caught the infection. Nor can we know for how many months or years the disease lay dormant in his body. If his family, neighbors, and friends knew of his diagnosis, Silas almost certainly would have endured the social isolation that accompanied the fear of contagion.[23] Or perhaps friends and neighbors were unaware of his illness and the stigma it carried, merely observing that Silas appeared tired or weak.
James family troubles continued when just two months after his parent's divorce, Silas's two-year-old nephew Isaac died in Corrine. In light of such difficulties, Mary Ann, who was expecting her second child, returned to her childhood home a short time later. Tragically, both Mary Ann and her newborn Henry James died in April 1871.[24] The string of adversity that included divorce and multiple deaths in the family may have amplified Silas's own illness.
Sometime in early 1872, when he was just 25 years old, Silas likely experienced a resurgence of a cough, fever, and chest pain as the tuberculosis that lay latent in his body became active. Perhaps Jane administered to him like she had done in other instances in her life. Surely Silas's gradual and painful decline taxed his mother and siblings to the point of physical and emotional exhaustion.
During his final days Silas would have had no memory of the sounds of the river where he was born, nor of the tangled branches that arched over its banks. As a baby clinging to his mother's shoulders, he traversed many such rivers on his journey over the soft prairies and timbered Rockies to the Salt Lake Valley. At his life's end, Silas was weak and laboring for breath. It is not difficult to imagine his mother at his bedside, gathering him up in her arms to ease his breath. In his anguish his mother Jane may have drawn her son closer, bearing him across one last river. Silas crossed over that final river on May 17, 1872.[25]
In 1975, three years before priesthood ordinations and temple rituals were restored by revelation to people of Black African ancestry, Silas received Latter-day Saint priesthood and temple rituals in the Idaho Falls Temple by proxy. Church policies in place at the time were designed to prevent such rituals for people of Black African ancestry, even by proxy after death.[26] There is no evidence that those who performed such rituals in Silas's behalf were aware of his racial identity, an indication of the impossibility of regulating racial boundaries, especially after death. Perhaps his mother Jane rejoiced with Silas in the eternities over the rituals performed in his behalf in Idaho Falls in 1975, especially considering that she was repeatedly denied those rituals in life.[27]
By Cathy Gilmore
With research assistance from Izzy Maire
---
[1] Patty Bartlett Sessions and Donna Toland Smart, Mormon Midwife: The 1846-1888 Diaries of Patty Bartlett Sessions (Logan, Utah: Utah State University Press, 1997), 54. Jane Manning James' autobiography states that Silas was born at Keg Creek. However, diarist and midwife Patty Sessions, who attended to Jane at Silas's birth, recorded in her diary that they were camped at the Nishnabotna River. See Jane Manning James, "Jane Manning James Autobiography." Salt Lake City, Utah, ca 1902, MS 4425, Church History Library, Church of Jesus Christ of Latter-day Saints, Salt Lake City, Utah; Sessions and Smart, Mormon Midwife, 54; and Quincy D. Newell, Your Sister in the Gospel: The Life of Jane Manning James, a Nineteenth-Century Black Mormon (New York: Oxford University Press, 2019), 61.
[2] James, "Jane Manning James Autobiography." Silas's parents were among the first Black converts to the Church of Jesus Christ of Latter-day Saints. Jane Elizabeth Manning, a free Black woman, was baptized into the church in 1842 and joined the Saints in Nauvoo in 1843. As an unmarried woman, she lived and worked in the household of Joseph Smith, Jr., where she developed close associations with the church's prophet and his family. The year following the death of Joseph Smith, Jane married Isaac James, a convert baptized in 1839 in New Jersey.
[3] Sessions, Mormon Midwife, 54-55.
[4] Newell, Your Sister in the Gospel, 61-62.
[5] Newell, Your Sister in the Gospel, 65. The James family left on June 18, 1847 as part of the Isaac Haight company of ten.
[6] United States, 1850 Census, Utah Territory, Salt Lake County, Salt Lake City.
[7] Mary Ann James (b. May 1848); Miriam James (b. 11 July 1850); Ellen Madora James (b. 22 September 1853).
[8] A List of President Brigham Young's Family Residing in the 18th Ward, March 19, 1855, CR 1234 1, Box 170, Folder 26, Brigham Young office files; Miscellaneous Files, 1832-1878; Family information, circa 1853-1858, Church History Library, Church of Jesus Christ of Latter-day Saints, Salt Lake City, Utah.
[9] Jane Manning James, "Jane Manning James Autobiography," Salt Lake City, Utah, ca 1902, MS 4425, Church History Library, Church of Jesus Christ of Latter-day Saints, Salt Lake City, Utah.
[10] Jesse N. Smith, a twelve-year-old who entered the Salt Lake Valley one week after Silas, recalls his experience: "I was just at an age when my appetite was very keen, but there was no help for it. We voluntarily put ourselves upon rations; we had about half a pound of flour per day for each person, without any vegetables and but a little meat, sometimes none, but we had a little milk from one cow which was farrow. I herded cows the whole winter for Uncle John and for a few others. I was exceedingly hungry, for months my hunger for food was not satisfied." Jesse N. Smith, The Journal of Jesse N. Smith: Six Decades in the Early West, ed. Oliver R. Smith (Provo, Utah: Jesse N. Smith Family Association), 13, 176.
[11] Church of Jesus Christ of Latter-day Saints, Record of Members Collection, Salt Lake 13th Ward, CR 375 8, Church History Library, Salt Lake City, Utah.
[12] Joseph Smith, Jr. taught that eight-year-old children possessed sufficient readiness and agency to be baptized. See Doctrine and Covenants 68:27: "And their children shall be baptized for the remission of their sins when eight years old, and receive the laying on of the hands."
[13] Brigham Young, February 5, 1852, CR 100 912, Church History Department Pitman Shorthand transcriptions, 2013-2021, Addresses and sermons, 1851-1874, Miscellaneous transcriptions, 1869, 1872, 1889, 1848, 1851-1854, 1859-1863, Utah Territorial Legislature, 1852 January-February, Church History Library.
[14] Newell, Your Sister in the Gospel, 91.
[15] Jesse C. Little, "Tax Assessment Rolls" (Salt Lake City (Utah) Assessor, 1856), Series 4922, box 1, folder 1, Utah State Archives.
[16] Newell, Your Sister in the Gospel, xiv. Jane James gave birth to a stillborn son, Isaac James, in 1854.
[17] Horace Bushnell, Christian Nurture (1888; reprinted New Haven, Conn.: Yale University Press, 1967), 12, quoted in Colleen McDannell, "Parlor Piety: The Home as Sacred Space in Protestant America," in American Home Life, 1880-1930: A Social History of Spaces and Services, eds. Jessica H. Foy and Thomas J. Schlereth (Knoxville: University of Tennessee Press, 1992), 163-4.
[18] For examples of Jane's expressions of spiritual gifts, see: Newell, Your Sister in the Gospel, 34-35; James, "Autobiography," Appendix 144-5; Quincy D. Newell, "Jane Elizabeth Manning James," Century of Black Mormons, https://exhibits.lib.utah.edu/s/century-of-black-mormons/page/james-jane-elizabeth-manning#_edn35.
[19] James, "Autobiography," 13.
[20] Towns like Corrine symbolized this change with the promise of free commerce, a railroad hub, and amusement free from Mormon influence. For more on the forces that shaped these tensions, see: David Walker, Railroading Religion: Mormons, Tourists, and the Corporate Spirit of the West (Chapel Hill: The University of North Carolina Press: 2019).
[21] United States, 1870 Census, Utah Territory, Salt Lake County, Salt Lake City, 8th Ward.
[22] Elias Smith, Jane E. James v. Isaac James, Salt Lake County Probate Court, Civil and Criminal Case Files, Series 373, box 14, folder 46, March 1870, Utah State Archives, Salt Lake City, Utah.
[23] Newell, Your Sister in the Gospel, 95. Two members of the Perkins family--mother Esther and eight year old son Alma-- died of consumption (tuberculosis) in 1865 and 1866 respectively. This was around the same time that Sylvester James married Mary Ann Perkins, a member of that family. In 1866 the Perkins family also lost Sarah to "milk fever," Wesley to "lung inflammation," and Ephraim to an unknown cause. If the two families were closely connected, there is the possibility that the disease could have passed to Silas through such connections.
[24] "Utah, Salt Lake County Death Records, 1848-1949," entries 4656 and 4660, microfilm 4,139,616, Family History Library, Church of Jesus Christ of Latter-day Saints, Salt Lake City, Utah.
[25] "Utah, Salt Lake County Death Records, 1848-1949," entry 5143.
[26]Devery S. Anderson, ed., The Development of LDS Temple Worship, 1846-2000: A Documentary History (Salt Lake City: Signature Books, 2011), 82, 101-2, 361.
[27]Silas F. James (KNJP-7XB), ordinance records on FamilySearch.org.
Documents
Click the index tab in the viewer above to view all primary source documents available for this person.