James, William Henry
Biography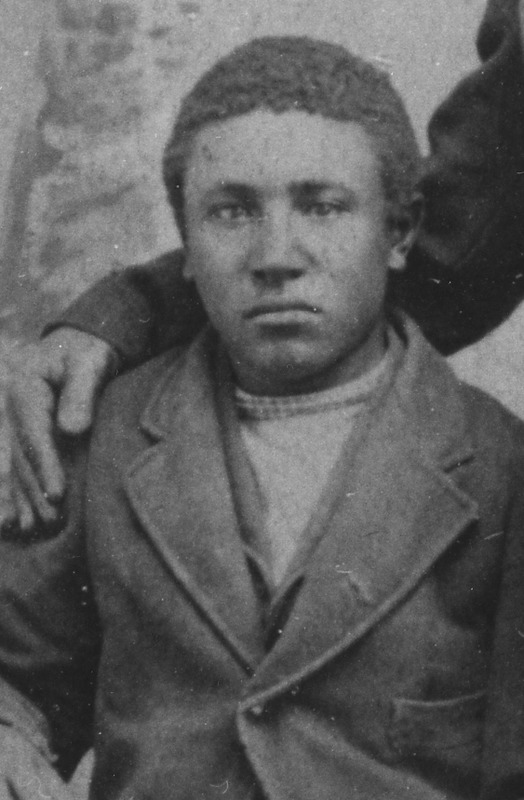 When freeborn Jane Elizabeth Manning James came to Great Salt Lake City as one of its first settlers, she brought her eldest son Sylvester with her. Almost twenty years later, Sylvester James and his wife Mary Ann Perkins James welcomed their first child, William Henry James into their family. William was born in 1866 while his father and mother lived in the Salt Lake LDS First Ward. William's mother's family had arrived in Utah as slaves owned by Reuben Perkins. William was born just four years after slavery legally ended in Utah Territory.
Several of William's younger brothers and sisters were blessed in the First Ward, but there is no baby blessing listed for him. He was, however, baptized along with his sisters Esther Jane and Nella (Nellie) in 1882, a few years before his family left downtown and began farming in Mill Creek to the southeast. [1]
In 1888, William's father, Sylvester James, bought farm acreage in Mill Creek and relocated his family to this agricultural community. On February 16, 1892, Sylvester James transferred part of his holding to his son, William. Eighteen months later William sold his land to his uncle Sylvester Perkins. [2] It might have been at this time that William moved to southeast Idaho.
The 1900 census listed William, who was single, living in the Gray's Precinct of Idaho. [3] The wilderness surrounding Gray's Lake attracted a number of homesteaders around the turn of the twentieth century. Black settlers played an important role in transforming the region into productive ranches. [4] William ranched near Abraham Flake, the son of 1847 Utah pioneer Green Flake. Green lived with Abraham at the end of his life and William likely also associated with both men.
William continued to live in the Gray's Lake area of Idaho until 1920. [5] That year the census enumerators counted only about 150 residents in the precinct. William was the only resident who was black. By 1921, he had moved back to Mill Creek where he died on June 24 at the age of 54. He may have returned to the area in order to be close to family in his final illness. William's death certificate listed his address as East Mill Creek where many of his family members were still living. [6] He is buried in Elysian Burial Gardens. [7]
By Tonya S. Reiter
Primary Sources
Church of Jesus Christ of Latter-day Saints, Record of Members Collection. Salt Lake First Ward. CR 375 8, box 2168, folder 1, image 59. Church History Library, Salt Lake City, Utah.
Salt Lake County Recorder. Abstract Book B-3 and B-9.
United States. 1870 Census. Utah Territory, Salt Lake County, Salt Lake City, First Ward.
United States. 1880 Census. Utah Territory, Salt Lake County, Salt Lake City, First Ward.
United States. 1900 Census. Idaho, Bingham County, Gray Precinct.
United States. 1920 Census. Idaho, Bonneville County, Gray Precinct.
Utah State Board of Health. Office of Vital Statistics. James, William. Certificate of Death. File No. 985. Utah State Archives, Salt Lake City, Utah.
Secondary Sources
Black, Susan Easton, compiler. Membership of The Church of Jesus Christ of Latter-day Saints, 1830-1848. 50 vols. Provo Utah: Brigham Young University Studies Center, 1989.
Carney, Ellen. "Blacks Were First to Settle Idaho's Grays Lake Valley," Idaho State Journal, 3 March 2013.
Reiter, Tonya. "Life on the Hill: Black Farmers and Their Families in Mill Creek, Utah." Journal of Mormon History 44, no. 4 (October 2018): forthcoming.
---
Documents
Click the index tab in the viewer above to view all primary source documents available for this person.