Kirchhoff, Esther Jane "Nettie" Scott
Biography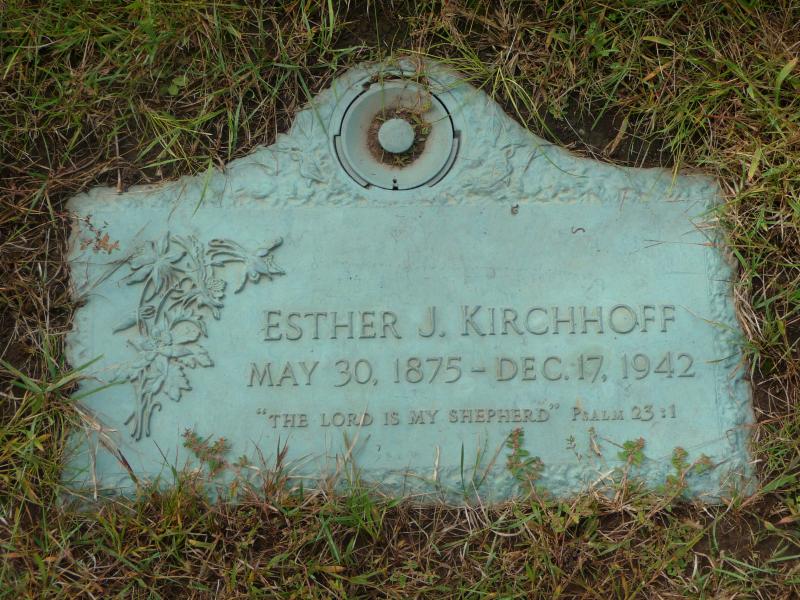 When Esther Jane "Nettie" Scott married Richard Kirchhoff, a German immigrant, on 6 April 1892, the Waupaca, Wisconsin, county clerk listed her race as "white." [1] In 1895, the Wisconsin state census and the 1900 United States Census also described her as "white," but the 1905 Wisconsin census listed "Ester" as black along with Calvin and Milton, the couple's two young sons. [2] The 1910 federal census was perhaps more precise when it described "Nettie," Calvin, Milton, and Leo, the couple's third son, as "mulatto" and the 1920 census was maybe even more exact when it listed Esther, Milton, and Leo as "octoroon." In the 1930 and 1940 censuses Esther was again described as "white." [3]
LDS Church records do not offer much clarification. In 1925, the LDS clerk who filled out the Church census for "Nettie" created a separate card for her, independent from that of her family as if she were single, and then scrawled "colored" next to her name despite the fact that the form did not include a racial category. That same year the same clerk created a distinct census card for Richard, Calvin, and Milton, as if the two families were not related. In contrast, the 1930 and 1935 LDS censuses listed Richard and Nettie as a married couple living in the same household and made no mention of Nettie's race. [4]
Whatever Nettie's racial identity, it seems clear that at least some people in the LDS and broader community understood her to be something other than white. Northern States Mission President German Ellsworth was one of those people. In 1909, he noted that there were three black families in the Northern States Mission and mentioned Oshkosh, Wisconsin, as home to one of those families without mentioning Nettie or her sons by name. As mission president he worried about the potential negative impression that the black families might leave on white investigators when they attended Sunday services and found Mormons worshiping together in integrated congregations during an era of national segregation. Ellsworth perceived the presence of black members in LDS congregations as a disincentive to potential white converts and as a result instructed his missionaries to stop proselyting in black neighborhoods. [5]
If Ellsworth found Nettie's race a problem, there is no indication that local leaders and branch members in Oshkosh did so too. In fact, the opposite seems true. The Kirchhoffs, by all indications, were pillars of the Oshkosh branch. LDS missionaries Burton S. Rupp, from Salt Lake City, Utah, and John E. Boice, from Manassa, Colorado, baptized and confirmed Richard and Nettie on the same day in September 1898. [6] Nettie had given birth to her first son, Calvin, just three months prior and the young couple must have found a sense of purpose in their new faith. There was no branch organization in Oshkosh at the time of their baptism and so it is unclear how or where they may have nourished their faith apart from in their own home. They would have to wait another six years before the infant LDS community at Oshkosh was organized into a branch. When that event took place on 24 July 1904, Richard and Nettie were present as founding members, along with two missionaries and Jane Stever and Bessie Wilson, two additional early converts at Oshkosh. [7]
The Kirchhoff's were a working class interracial couple who seemed to have found a place for themselves in Oshkosh and made contributions to their LDS community and beyond. Richard worked as a stone mason and laborer from 1900 through 1920 and managed to own his own home by 1910. In 1930 and 1940 he listed his occupation as a grave digger and laborer at a cemetery and by then he was again renting the home that he and Nettie shared. [8] Nettie did not work outside of the home but did find a sense of community and social satisfaction in the Ladies Circle of the Woodmen of the World, a female auxiliary for a fraternal life insurance group. In 1915 she was elected as the local organization's chaplain. She continued to participate in the Ladies Circle through the 1930s where she gave readings and otherwise remained an active participant. [9]
Among the Latter-day Saints, the Kirchhoffs were especially valued. The missionaries organized a Sunday School at Oshkosh in June 1904, one month preceding the branch organization. Missionary Albert Green from Kanesville, Utah served as the first Sunday School Superintendent while his companion Amos Jensen from Sandy, Utah became the assistant superintendent. Nettie Kirchhoff served as secretary in that first Oshkosh Sunday School presidency, with Bessie Wilson as treasurer. [10]
Each time the missionaries were transferred in and out of the small branch it necessitated a reorganization of the Sunday School leadership. Such reorganizations took place five times over the next two years and throughout the resulting shuffling of positions Nettie Kirchhoff remained a stabilizing force—a consistent leader through every change. She served as secretary to every reconfiguration of Sunday School leaders up through the final reorganization recorded in the branch record which took place in November 1906. At that meeting Nettie accepted her new assignment as assistant teacher of the theological class. The Oshkosh Sunday School thus became home to not only a mixed gendered Sunday School presidency, but to a mixed race presidency as well. It was no doubt Nettie's influence that also accounted for the fact that her sons Calvin, Milton, and Leo were listed among the students on the rolls of the Sunday School at Oshkosh. In fact, the Kirchhoff family accounted for over one third of the branch members included on the Oshkosh Sunday School rolls, excluding the missionaries. [11]
If Elder James Grant's journal is any indication, the Kirchhoffs were also favorites among the missionaries. Elder Grant, from Thurber, Utah, served in Oshkosh from November 1903 through March 1904 and during that period he mentioned visiting with the Kirchhoffs at least thirty-six times. Grant's entry for 23 January 1904 is typical. On that day he wrote, "went down to Kirchhoff in evening, sang songs and talked Gospel." Five days later he recorded, "in evening we called on Brother & Sister Kirchhoff & spent the evening reading and talking on the gospel and came back to our room at 9 a clock; night very cold." In February 1904, Grant and his companion "held fast meeting at [the] Kirchhoff" home and he noted that "most of them bore a testemoney to the gospel." Shortly after Grant arrived in Oshkosh one of the Kirchhoff boys, little Milton, who would have been two years old at the time, fell sick. Grant noted that he and his companion, Albert Green, gave the boy several blessings "and set up with the[i]r sick boy," including one night wherein Grant "set up with him all night and he seemed lots beter in the morning." [12]
It is clear from Grant's journal that he developed a deep affection for the Kirchhoffs during his stay in Oshkosh. When he was transferred to a different area he "went and bid Kirchhoff good by[e] and later "met Brother & Sister Kirchhoff" and others at a restaurant where the group enjoyed a farewell dinner together. [13]
Unfortunately the Oshkosh branch record falls silent by 1907 and little else survives to tell of the Kirchhoffs' life in the LDS Church after that. Calvin and Milton were both baptized into the faith on the same day in June 1914; Milton would have been almost thirteen at the time and Calvin almost sixteen. There is no record of Leo being baptized. LDS census records include Richard and Nettie up through 1935. At some point after that they moved in with their son Leo who was a Presbyterian, but the couple maintained an LDS affiliation for the remainder of their lives. LDS records list the death of both Richard and Nettie and indicate that they "died in full fellowship." [14]
Nettie died in 1942 at age 67 and is buried in Lakeview Memorial Park at Oshkosh, Wisconsin. Her grave marker includes the first verse of the twenty-third Psalm, "The Lord is my shepherd," as a moniker to her memory. [15]
By W. Paul Reeve
Primary Sources
Church of Jesus Christ of Latter-day Saints, Record of Members Collection. CR 375 8, box 7701, folder 1, images 300-301; box 4166, folder 1, image 106; box 7704, folder 1, images 121, 195. Church History Library, Salt Lake City, Utah.
Ellsworth, German E. to Joseph F. Smith, 24 December 1909. Northern States Mission. Church History Library, Church of Jesus Christ of Latter-day Saints, Salt Lake City, Utah.
Grant, James. Missionary Journal, 1903-1904. MS 19933. Church History Library, Church of Jesus Christ of Latter-day Saints, Salt Lake City, Utah.
"Kirchhoff." Presiding Bishopric stake and mission census, 1914-1935. CR 4 311. Church History Library, Church of Jesus Christ of Latter-day Saints, Salt Lake City, Utah.
Kirchhoff, Esther Jane Scott. Findagrave.com.
Kirchoff, Richard and Ester Scott, 06 Apr 1892. "Wisconsin, County Marriages, 1836-1911." Database, FamilySearch. Microfilm 1,275,605. Family History Library, Church of Jesus Christ of Latter-day Saints, Salt Lake City, Utah.
Oshkosh Branch, Wisconsin. Northern States Mission. Record of Members, Historical, 1904-1907. CR 375 8, WR 4685. Church History Library, Church of Jesus Christ of Latter-day Saints, Salt Lake City, Utah.
The Oshkosh Northwestern (Oshkosh, Wisconsin), 10 December 1915, 2; 23 February 1932, 8; 1 April 1933, 8.
United States, Census. 1900, 1910, 1920, 1930, 1940, Oshkosh, Winnebago County, Wisconsin.
Wisconsin, State Censuses, 1895 and 1905. Database on-line at Ancestry.com. Originals at Wisconsin Historical Society, Madison, Wisconsin.
---
Documents
Click the index tab in the viewer above to view all primary source documents available for this person.