Lamb, Julia Miller
Biography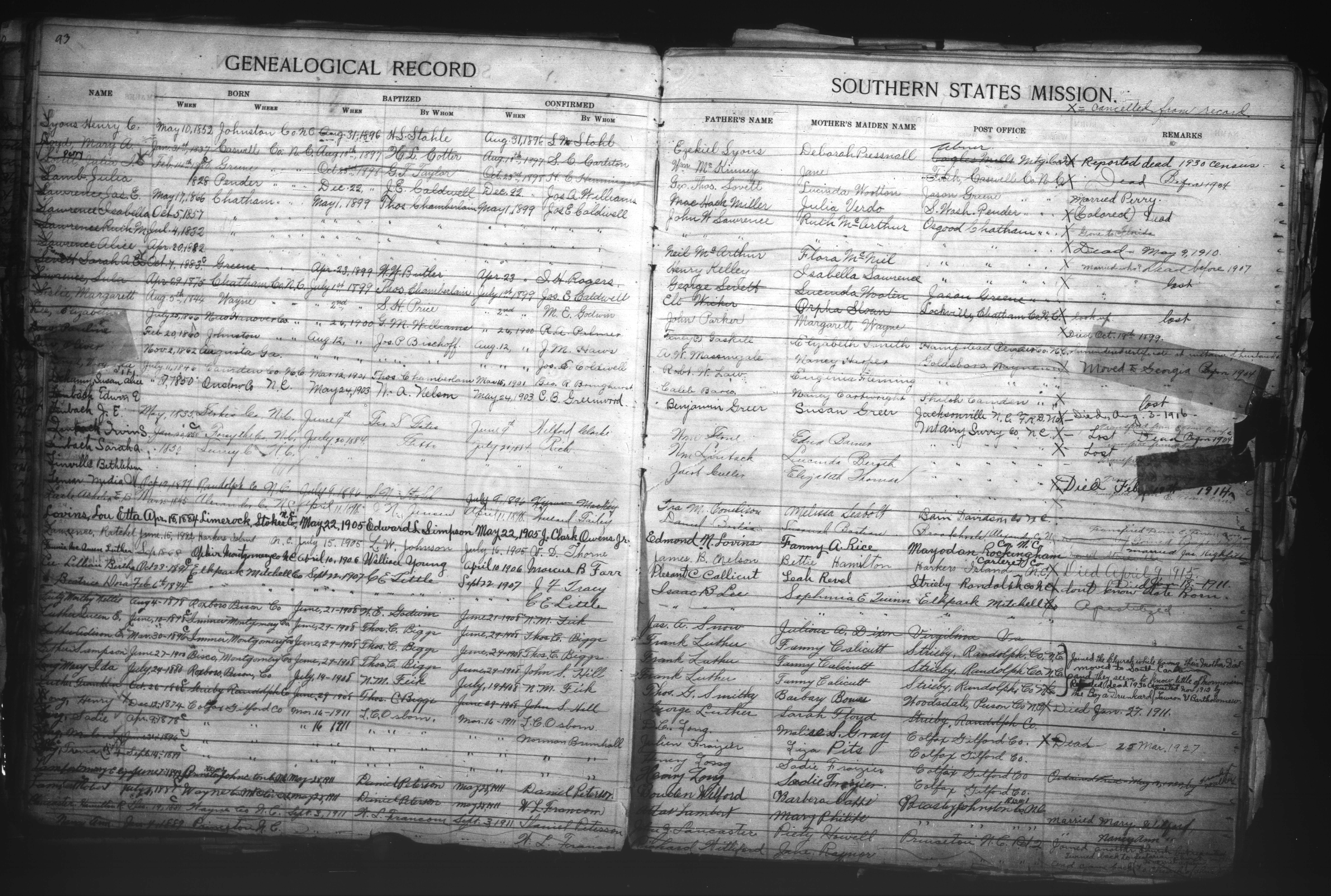 In 1841, a young man and young woman living near North Carolina's Atlantic coast established a family. Because Henry (Harry) Lamb and Julia Miller were enslaved, they were not permitted to marry in a formal way, or have their union recorded by church or state. Nevertheless, their marital bond was as real as any other. They managed to stay together; Julia bore 14 children, only half of whom could she and Harry raise past childhood.
In 1866, after Emancipation, state officers ordered North Carolina's county officials to provide a process for black couples to register their unions. Harry and Julia went to the courthouse in New Hanover County on 10 September 1866, paid the 25¢ fee, and documented their 25-year marriage. By the time they passed away at the dawn of the 20th century, this couple had been married more than 60 years.1
Because of her enslavement, records concerning Julia Miller Lamb's early life are fragmentary and contradictory. Late in life, she stated that her parents were named Mashack Miller and Julia Verdo (or Berdo), and that she had been born in the part of New Hanover County, North Carolina, that became Pender County in 1875; it is likely that she lived her entire life in Union Township in that county.2
Julia's year of birth is in question: While she herself once stated that she was born in 1828, it is likely that she was born a few years earlier: A date of 1828 would make her only 13 at the time of her marriage, and her estimated age in the census years of 1870 and 1880 suggest that Julia was actually born somewhere between 1822 and 1825; in 1900 she or someone in her household reported her birth as having occurred in April 1820.3
She does not appear by name in the federal censuses of 1850 or 1860, but undoubtedly Julia and Harry and their children do appear, nameless, on some slave schedule in those years. An as-yet-unproven hypothesis is that the family of Harry and Julia Lamb are enumerated in 1860 as the property of one William A. Lamb of New Hanover County: In the roster of his 13 slaves are children and adults who exactly match the pattern of sex and age of the Harry and Julia Lamb family appearing in the 1870 census (the first one where family members are named); no other grouping in the county seems to match as well.4
Most of Julia's children remain unidentified. Those who are known are:
Handy Lamb [son], 1 June 1854-9 May 1921, married Phoebe Carroll; married Minnie Morrisey

Esther Lamb, 1855- , died unmarried

Sarah Lamb, 1857-12 October 1915, married Jesse W. Wheeler, 1874

Clarissa [Clara, Clarice] Lamb, 1859- , married George W. Herring, 1892

Henry Lamb, 1861-

Margaret Lamb, 1863-

Shade Lamb [son], 1867-
Few other details can be gleaned from available records: Neither Julia nor Harry Lamb could read or write. In 1870, Julia was caring for two elderly people, both invalids, in her home (Isaac Lamb, 82; Judy Rivenbark, 90); what connection they had to the family is unknown. Harry's occupation is consistently listed as "farmer" or "farm laborer."
On 22 December 1898, when she was in her mid-seventies, Julia Miller Lamb was baptized into the Church of Jesus Christ of Latter-day Saints, by Elder Joseph E. Caldwell of Emery County, Utah, and confirmed the same day by Elder Joseph A.M. Williams of Salt Lake City. No other member of her family is known to have joined the Church.5
The extent of Julia's involvement with the Church remains unknown. At some unknown date, a missionary updating mission records drew a line through her record, and noted simply that she was "Dead." Her death date and place of burial are unknown at this writing.
By Ardis E. Parshall
Primary Sources
Church of Jesus Christ of Latter-day Saints, Record of Members Collection. CR 375 8, box 4727, folder 1, images, 60-61, 177, Church History Library, Salt Lake City, Utah.
North Carolina. Marriage Records, 17841-2011. New Hanover County, Cohabitation Records (1846-1866)
United States. 1860 Census, Slave Schedules. North Carolina, New Hanover County. Entry for Wm. A. Lamb.
United States. 1870 Census. North Carolina, New Hanover County, Union.
United States. 1880 Census. North Carolina, Pender County, Union.
United States. 1900 Census. North Carolina, Pender County, Union.
Secondary Sources
White, Barnetta McGhee. Somebody Knows My Name: Marriages of Freed People in N.C. County by County . (Athens, GA: Iberian Publishing Co.), 1995.
---
Documents
Click the index tab in the viewer above to view all primary source documents available for this person.