Leggroan, Edward "Ned"
Biography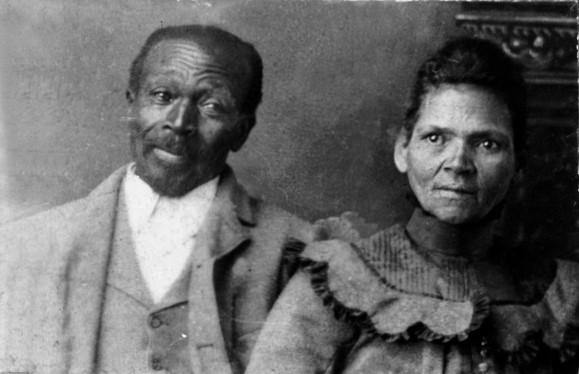 When Edward Leggroan, commonly known as Ned, died 30 January 1926, in Idaho Falls, the local newspaper, The Times Register, memorialized his life. A neighbor of the Leggroans and fellow homesteader, H. W. Keifer visited the newspaper office to give a tribute to Ned. Keifer declared, "He wouldn't want a better neighbor than Ned Leggroan, who was a gentleman in every sense of the word, frugal and industrious, and that he felt profound sorrow upon hearing of his death." [1] The Salt Lake Tribune noted that Ned had "lived the life of a respected citizen" in Idaho where he "made his home for more than 35 years." [2]
Leggroan was born into slavery on Christmas day, probably in 1840. David G. Lagrone, a farmer in Noxubee County, Mississippi owned him, his parents, and his siblings. [3] He was valued in the David Lagrone estate papers at $1,200, indicating he was a strong, healthy young man who could work hard. [4] Family lore later talked of Ned as an escaped slave, but no documentation supports that claim.
Early in the 1860s, while enslaved, Ned "married" a slave woman called Florida. They had a son, Henry, born about 1864. Leggroan descendants believe Florida gave birth to a second child in 1868, but she and the baby died that same year. Her death left Ned alone with a young son to raise. Susan Gray Reed, who, like Ned, had been a slave in Mississippi, had lost her husband and had two young sons. Ned and Susan married on 18 January 1870. [5]
The newly married couple made a decision that changed the course of their lives. They chose to join Ned's sister, Amanda, and her husband, Samuel Davidson Chambers, on the long trek across the United States to make their home with the Mormons in the Great Salt Lake Valley. Samuel Chambers had joined the LDS church as a young slave boy but had to wait for emancipation before he could earn enough money and have the freedom to go West. The Leggroans must have known only what Samuel Chambers told them about the Mormon faith and likely knew little about what life might be like in Utah Territory. Ned and Susan and their three sons nonetheless made the journey from Mississippi to Utah with the Chambers family.
The two families settled into the LDS First Ward in the spring of 1870. Ned found work as a stable hand that first year in Utah Territory and in December he and Susan had their first child together, a daughter. Just two months earlier, Susan's oldest son, Samuel, had died. [6] Andrew, her younger son must not have survived long either, because the 1880 census does not include him in the family. Ned's son, Henry, from his first marriage, thrived and grew to adulthood in Utah.
After living among the Mormons for three years, Ned and Susan joined the Church of Jesus Christ of Latter-day Saints on 5 June 1873. Their baptisms were reported in The Elevator, an African American newspaper published in San Francisco. [7] The Leggroans moved from the First Ward into the Eighth Ward in the mid-1870s. Along with other black ward members and relatives, Ned and Susan were able to do vicarious baptisms and confirmations on 3 September 1875 in the Endowment House. [8] Ned stood proxy for Susan's first husband, Samuel. [9] While living in the Eighth Ward, on 13 January 1876, Ned and Susan also accepted rebaptism, a sign of their enduring commitment to the LDS church. [10]
By 1880, the Leggroan family had relocated to Butler, a small community in the southeast part of the Salt Lake Valley where they farmed. After the Chamberses and a few other black families began to buy acreage in Mill Creek, the Leggroans purchased property there too, but did not make it a permanent home. [11] In 1890, Ned took his family to Idaho to establish a sheep ranch. [12] The Willow Creek Ward received the family there that year. [13] Nine of their eleven children were born in Utah while their two youngest were born in Idaho. Three children died before the age of nine while the rest grew to adulthood, married, and had families of their own. The Leggroans blessed and baptized many or all of their children who were born after they joined the LDS church. Church records list those ordinances. It is possible that Ned and Susan participated less in church activity in their later years given that no record has been found to indicate that their youngest son was baptized. Ned and Susan nonetheless remained members. Their names appear in an LDS census taken in 1921 and Ned's funeral was held in the LDS Church at Idaho Falls. [14]
The Leggroans homesteaded a wild area near present day Milo, Idaho, about fifteen miles northeast of Idaho Falls. [15] Ned's obituary painted a picture of the hard work and endurance required to make the land productive: "Settlers were few and far between. Out there alone and completly [sic] surrounded by desert and sage brush, he had a hard struggle for the first few years, particularly against Jack Rabbits which was [sic] so thick that they used to eat the settlers out of house and home." [16]
In about 1911, Ned sold the ranch and retired to Idaho Falls where he and Susan lived the rest of their lives. Ned stands at the head of a large family. His descendants are numerous throughout Utah, the Mountain West, and California. The name "Leggroan" is synonymous with Western black pioneer heritage. One of Ned's granddaughters, Frances Leggroan Fleming, remembered him as a small, thin, very spry man, who at the age of eighty-three could jump into the air and click his heels three times before he landed. [17] Frances described him as, "Nice. He was great. Kind as can be." [18] She thought her own father had inherited some of Ned's good traits, "My dad was a lot like him, . . . kind and generous. If he could help you, he would. . . . My grandpa was like that." [19]
Ned's neighbors called him "a man of few words. He rarely discussed his experiences as a slave except to members of his family and to those of his intimate friends." [20] Ned's life under slavery in Mississippi had been difficult. He told his granddaughter Frances that his master beat him because he leaned his elbows on his knees as he picked cotton. "If he could have found his master's body after he died, he would have stomped it," Frances declared. [21] She thought Ned's anger was justified, "because anybody that mean needs to be stomped." [22] After a while, Ned stopped telling his grandchildren about past mistreatment: "Then he got so he didn't want to talk about it. Because he saw what it was doing to us, so he quit talking about it. So that was that," Frances explained. [23] Ned, however, did tell them how much better life was in the West than it had been in the South. "That's why he came up here. To get away from what was down there." [24]
Ned's Times Register obituary reported that he "lived to see the U.S. engaged in three big wars. . . . Born and reared in bondage he lived to become not only a highly respected citizen, but a voter and land owner as well. It took character, industry, and brains to accomplish what Ned Leggroan has accomplished during his life." [25] The Salt Lake Tribune told its readers, "He will be buried by his white friends of the L.D.S. church and by the entire colony of colored people residing in this vicinity [Southeast Idaho]." [26] His funeral was conducted in an Idaho Falls LDS meetinghouse on 2 February 1926, after which his body was taken to Milo, Idaho, to be buried in a beautiful and peaceful little cemetery there. Thanks to the hard work of early farmers and homesteaders like the Leggroans, Milo is now filled with tree-lined, green, productive farmland. Ned rests next to Susan, his wife of fifty-six years, and their son, David. [27]
by Tonya S. Reiter
Primary Sources
Bankhead, Henrietta Leggroan. Oral interview by Florence [Leggroan] Lawrence. Salt Lake City, Utah, 1977. Transcript. Helen Zeese Papanilolas Papers, 1954-2001. Ms0471. Box 2, folder 3. Special Collections. J. Willard Marriott Library. University of Utah, Salt Lake City.
Church of Jesus Christ of Latter-day Saints. "Colored Brethren and Sisters, Endowment House, Salt Lake City, September 3, 1875." Microfilm 255,498. Family History Library, Salt Lake City, Utah.
Church of Jesus Christ of Latter-day Saints. Record of Members Collection. Eighth Ward, Part 1. CR 375 8, box1862, folder 1, images 89, 90. Church History Library, Salt Lake City, Utah.
Church of Jesus Christ of Latter-day Saints. Record of Members Collection. Ucon Ward. CR 375 8, box 7164, folder 1, images 49, 50. Church History Library, Salt Lake City, Utah.
"Correspondence." The Elevator (San Francisco, California), 14 June 1873.
"Former Slave Dies in Idaho: Colored Convert Mormon Religion to Be Buried by Whites." Salt Lake Tribune (Salt Lake City, Utah), 2 February 1926.
Idaho Department of Health and Welfare. Bureau of Vital Records and Health Statistics. Leggroan, Ned. Certificate of Death. File No. 52733, Registrar's No. 26. Boise, Idaho.
Leggroan, Edward Or Ned. "Idaho, Southeast Counties Obituaries, 1864-2007." Family History Library. Microfilm 100,464,678. Church of Jesus Christ of Latter-day Saints, Salt Lake City, Utah.
"Leggroan." Presiding Bishopric stake and mission census, 1914-1935. CR 4 311. Church History Library. Church of Jesus Christ of Latter-day Saints, Salt Lake City, Utah.
Mississippi. Marriages, 1800-1911. Ned Lagrone and Susan Reed. 18 Jan 1870. Database, FamilySearch. Microfilm 900,889. Family History Library, Church of Jesus Christ of Latter-day Saints, Salt Lake City, Utah.
"Ned Leggroan." The Times Register (Idaho Falls, Idaho), 2 Feb 1926.
Salt Lake County Recorder. Abstract Book B-3, page 259, line 8. County Recorder's Office, Salt Lake City, Utah.
United States. 1860 Census, Slave Schedule. Mississippi, Noxubee County.
United States. 1870 Census. Utah Territory, Salt Lake County, Salt Lake City Ward 1.
United States. 1880 Census. Utah Territory, Salt Lake County, Butler.
United States. 1910 Census. Idaho, Fremont County, Rigby.
United States. 1920 Census. Idaho, Bonneville County, Idaho Falls.
Utah. Salt Lake County Death Records, 1849-1949. Sameann Legrow. 30 Oct 1870. Microfilm 4,139,616. Family History Library, Church of Jesus Christ of Latter-day Saints, Salt Lake City, Utah.
Secondary Sources
Arrington, Leonard J. History of Idaho. Moscow: University of Idaho Press, 1994.
Hornsby, Alton, Jr., ed. Black America: A State-by-State Historical Encyclopedia, Vol 1: A-M. Santa Barbara: ABC-CLIO, 2011.
Fleming, Frances [Leggroan]. Oral interview by Leslie Kellen. Salt Lake City, Utah, 1983. Transcript. "Interviews with Blacks in Utah, 1982-1988." Ms0453. Special Collections. J. Willard Marriott Library, University of Utah, Salt Lake City.
Leggroan, Edward Ned. FindAGrave.com.
Reiter, Tonya. "Black Saviors on Mount Zion: Proxy Baptisms and Latter-day Saints of African Descent." Journal of Mormon History 43, no. 4 (October 2017): 100-123.
Reiter, Tonya. "Life on the Hill: The Black Farming Families of Mill Creek." Journal of Mormon History 44, no. 4 (October 2018): 68-89.
---
Documents
Click the index tab in the viewer above to view all primary source documents available for this person.