Leggroan, Gilbert
Biography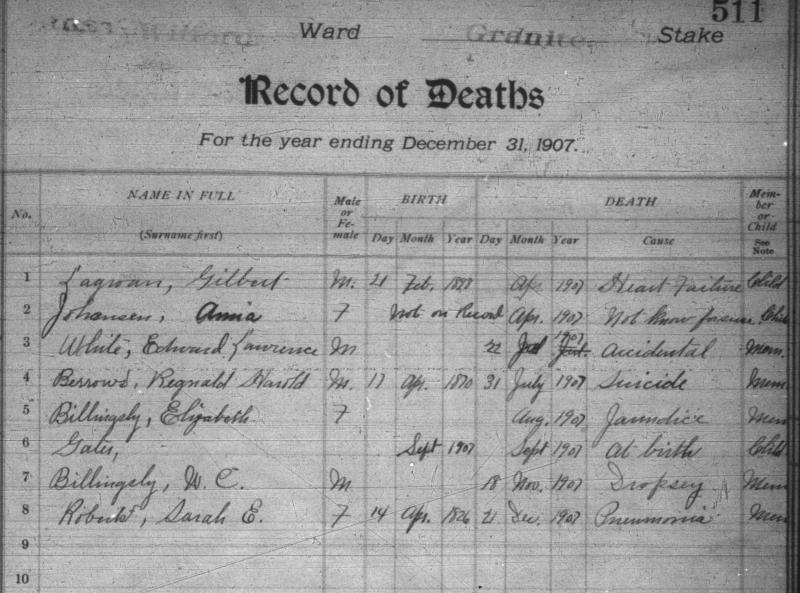 Gilbert was Henry and Esther Jane James Leggroan's fourth child and second son. He was born in 1898 and lived on the family farm in Mill Creek in the Salt Lake Valley. [1] He must have had a heart defect present at birth, because he died in 1907 as a young child of "heart dropsy." [2] The modern diagnosis might have been a mitral valve defect. His maternal aunt, Nettie James Leggroan, died while pregnant from mitral valve prolapse.
Gilbert died before being baptized, but his siblings were all baptized and his parents were participating Latter-day Saints all their lives. His death is listed in the Wilford Ward Record of Members. [3] Gilbert is buried, surrounded by family members, in Elysian Burial Gardens. [4]
by Tonya S. Reiter
Primary Sources
Bankhead, Henrietta Leggroan. Oral interview by Florence [Leggroan] Lawrence. Salt Lake City Utah, 1977. Transcript. Helen Zeese Papanikolas Papers,1954-2001. Ms0471. Box 2, folder 3. Special Collections. J. Willard Marriott Library. University of Utah, Salt Lake City.
Church of Jesus Christ of Latter-day Saints, Record of Members Collection. Wilford Ward. CR 375 8, box 7641, folder 1, image 94. Church History Library, Salt Lake City, Utah.
United States. 1900 Census. Utah, Salt Lake County, Mill Creek.
Utah State Board of Health, Bureau of Vital Statistics. Certificate of Death. Leggroan, Gilbert. File No. 512. Utah State Archives. Salt Lake City, Utah.
Utah Bureau of Vital Statistics. Utah Death Index, 1847-1966. Leggroan, Gilbert. File No. 1907001278. Utah State Archives. Satl Lake City, Utah.
Secondary Sources
Leggroan, Gilbert. FindAGrave.com.
---
Documents
Click the index tab in the viewer above to view all primary source documents available for this person.