Priesly, John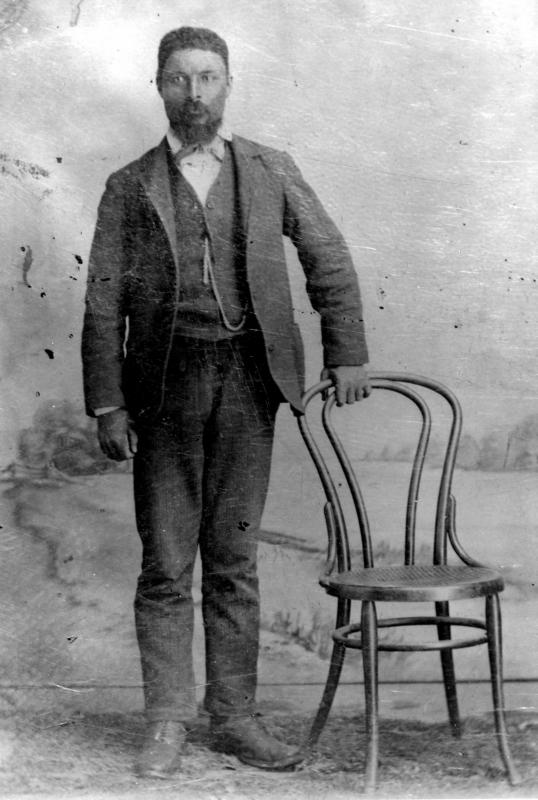 Biography
John Priesly was born in Utah in November 1858. [1] He had seven half siblings, all born in Utah, as well. His mother, Rose or Rosannah, came to Utah Territory as a slave owned by the William Crosby family. At the time John was born, it appears that Rose was emancipated and living in the area of Union, about fifteen miles southeast of downtown Salt Lake City. John's older half-brother, Daniel Bankhead Freeman, carried the name "Freeman" probably to celebrate Rose's new independence. John was said to be named after his Scottish father, who has not been definitively identified. [2]
According to accounts collected by Daughters of the Utah Pioneers (DUP), John initially worked for Rufus Forbush, an early Union settler, and lived in a small cabin in the rear of Forbush's property. [3] It was probably in Union that John met William Wilson Morrell. Morrell moved from the Salt Lake Valley south to Fremont, Piute County, where he built and operated a sawmill. [4] The forests near Fish Lake provided plenty of wood for Morrell's mill and he hired John Priesly to relocate and work for him. The1880 census lists John in Morrell's household at Fremont. [5]
Silas Morrell, William's son also worked at the sawmill. One day something went wrong at the mill and Silas was involved in a serious accident that broke his back. According to Morrill family tradition, when Silas's wife Luzernia learned about the accident, she was so distraught that she grabbed a shotgun and chased after John Priesly, who she evidently believed was responsible for her husband's injury. John ran from the mill in order to avoid Luzernia's retribution and never returned. The accident permanently disabled Silas, who was unable to perform manual labor for the rest of his life. [6]
John must have returned to the Salt Lake Valley after the Morrell incident because on December 31, 1904, at the age of forty-six, he was baptized in the Wilford Ward, in Mill Creek. He was confirmed on New Year's Day, 1905. [7] The Wilford Ward record notes that John left the ward and relocated to Milo, Idaho, but does not specify a date. Milo was home to members of the Leggroan family, fellow black Latter-day Saints who John would have known from Utah and with whom he may have farmed.
The DUP account of John Priesly's life mentions a white woman and two children who lived in John's cabin at Mill Creek until the neighbors made a fuss about it. Supposedly, he sent her to Idaho Falls, where some of his family lived. This could be a garbled story referring to John's move to southeast Idaho. His death certificate lists a wife named "Sarah." It is possible the woman in the DUP story was John's wife. However, by 1910 John was back in Utah living with the Walter H. Atwood family in Murray City where he worked as a farm laborer and he listed his marital status as single.
In 1921, John Priesly died in the Salt Lake County Hospital of tuberculosis. [8] His death certificate reports that he lived in Salt Lake City for five years before his death. The informant is Fred (Ike) Banks, John's half-brother. Since their addresses were the same on John's death certificate, John must have roomed with Fred and his wife Sina after moving from Murray, in the middle of Salt Lake County, to 100 South and 700 West in Salt Lake City. He is buried at the Salt Lake City Cemetery. [9]
By Tonya S. Reiter
Primary Sources
Church of Jesus Christ of Latter-day Saints, Record of Members Collection. Wilford Ward, Part 1. CR 375 8, box 7640, folder 1, image 48. Church History Library, Salt Lake City, Utah.
Leggroan, Celia [Lucy Cecelia] Bankhead and Carrie [Nancy Caroline] Bankhead Leggroan. Oral interview by Ronald G. Coleman. Salt Lake City, Utah, 1977. Transcript. Helen Zeese Papanikolas Papers, 1954-2001. Ms0471, box 2, folder 8. Special Collections, Marriott Library, University of Utah, Salt Lake City.
United States. 1860 Census. Utah Territory, Salt Lake County, Union.
United States. 1870 Census. Utah Territory, Salt Lake County, Fort Union.
United States. 1880 Census. Utah Territory, Piute County, Fremont.
United States. 1910 Census. Utah, Salt Lake County, Murray.
Utah State Board of Heath. Office of Vital Statistics. Priesley, John. Certificate of Death. File No. 1246. Utah State Archives, Salt Lake City, Utah.
Utah State Historical Society. Utah Cemetery Inventory 1847-2000. Salt Lake City, Utah.
Secondary Sources
Carter, Kate B. Story of the Negro Pioneer. Salt Lake City: Daughters of the Utah Pioneers, 1965.
Thiriot, Amy Tanner. Slaves in Zion: African American Servitude in Utah Territory,1847-1862. Salt Lake City: University of Utah Press, forthcoming.
---
Documents
Click the index tab in the viewer above to view all primary source documents available for this person.