Southern Pacific Railroad P.32
Item
Title
Southern Pacific Railroad P.32
Description
Southern Pacific locomotive 6881 being rerailed at Lakeside, Utah on the west side of the Great Salt Lake. The two mobile cranes were required to put this locomotive back on the track after a derailment because the locomotive weights over 200 tons. Taken in 1990. Donor and Photog: Mike B. Davis.
Source
https://collections.lib.utah.edu/ark:/87278/s6pz5j8g
Spatial Coverage
Lakeside; Box Elder County; Utah
Digital Item or Finding Aid
Digital Collection
Classified Photograph Collection
Rights
Digital Image © 2008 Utah State Historical Society. All Rights Reserved.
Item sets
Site pages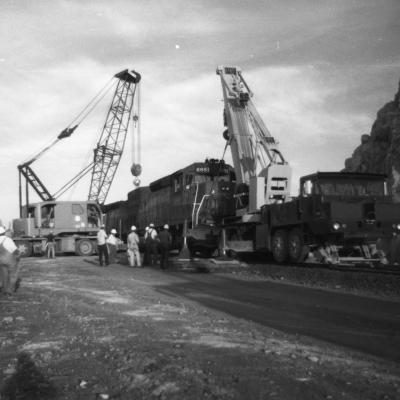 Southern_Pacific_Railroad_P_32.jpg