Alan and Alf Engen performing a double jump at Mount Baldy, California, 1960
Item
Title
Alan and Alf Engen performing a double jump at Mount Baldy, California, 1960
Description
Photo of Alan and Alf Engen ski jumping in tandem at Mount Baldy, California circa 1959-1960.
Subject
Engen, Alf, 1909-1997--Photographs; Engen, Alan K.--Photographs; Skis and skiing--California--Photographs; Ski jumping--California--Photographs
Digital Item or Finding Aid
Digital Collection
P0950 University of Utah Ski Archives Photograph Collection
Rights
This material may be protected by copyright. Permission required for use in any form. ACCESS RESTRICTED TO MEMBERS OF THE UNIVERSITY OF UTAH SKI ARCHIVES BOARD. For further inforamtion please contact the Multimedia Archivist, Special Collections, J. Willard Marriott Library, University of Utah (801) 585-3073.
Item sets
Site pages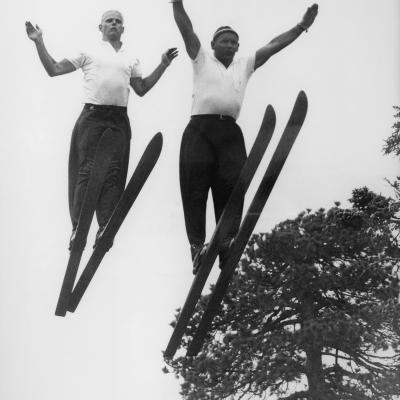 Alan_and_Alf_Engen_performing_a_double_jump_at_Mount_Baldy_California_16x20_For_additional_information_and_similar_photographs_see_collection_P0413_Alan_K_Engen_.jpg