Deseret Hospital - Board of Directors
Item
Title
Deseret Hospital - Board of Directors
Description
Front row, left to right: Jane S. Richards, Emmeline B. Wells. Middle row: Phoebe Woodruff, Isabelle M. Horne, Eliza R. Snow, Zina D. Young, Marinda N. Hyde. Back row: Dr. Ellis R. Shipp, Bathsheba W. Smith, Elizabeth Howard, Dr. Romania B. Pratt Penrose. Taken from ""Women of Deseret,"" publication of the Daughters of the Utah Pioneers. Utah writers' project. Used in Utah Historical Quarterly. Vol. 45-4 (Fall 1977).
Digital Item or Finding Aid
License
Used by permission, Utah State Historical Society.
Item sets
Site pages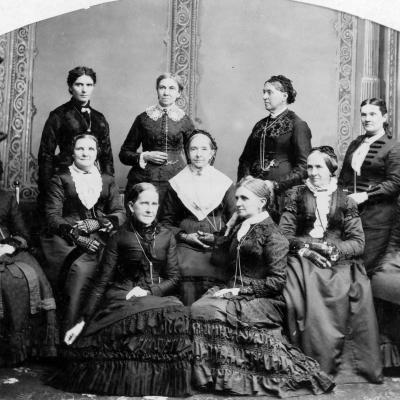 Deseret Hospital - Board of Directors P.1