Magee, Samuel
Biography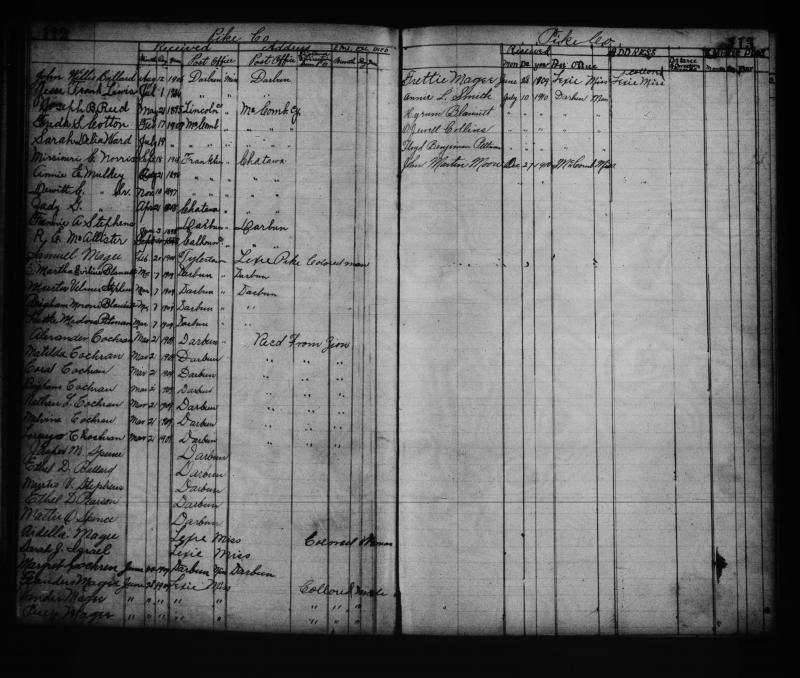 Samuel Magee's white neighbor, John Israel, introduced him to the Church of Jesus Christ of Latter-day Saints and Elder Joseph Smith Schofield from Manassa, Colorado, baptized Samuel on December 12, 1908. Samuel's wife Ardella Bickham Magee followed him into the new faith almost four months later, on April 15, 1909. The couple's four oldest children who were above the age of eight were then baptized two months after that, in June 1909. The parents became devout members of the church and when the remaining children turned eight they were also baptized, although a record of the youngest surviving child's baptism, Ernest Moroni Magee, has not been found. (Samuel and Ardella had one additional girl, Ardella, who died at age six, before she would have been old enough for baptism into Mormonism). Ernest was born in 1908, just before Samuel joined the church and the selection of his middle name, Moroni, after a Book of Mormon prophet, is a reflection of the depth of Samuel and Ardella's devotion to their new faith. [1]
Samuel was born February 20, 1866, less than a year after the end of the Civil War, to Samuel and Sallie Magee in rural southern Mississippi. He married Ardella Bickham in 1891 and together they raised a large family with eight children. [2] According to Freda, Samuel and Ardella's fourth child, the family had an enjoyable home life: "Our home was a happy home," she reflected. "When I was a teenager we got a piano and I learned to play quite well. . . . We had fun times together. We enjoyed our time together singing. I played the piano and everyone would sing." [3]
Freda also recalled that a black family joining a "white church" did not sit well with some people in southern Mississippi: "When my parents joined the church, some of the white people were pretty upset and ask[ed], 'What are you doing joining a white church?' There were other remarks made," Freda recalled, "but none of the criticism kept my parents from living the gospel to the best of their ability. They continued to attend church when possible." Freda remembered attending branch conferences at Darbun, a small town about fifteen miles away from the family home. The family "would ride in a horse drawn buggy to conference at Darbun, Mississippi. That was a highlight in our family," she wrote. Freda remembered her parents returning from conference and instructing the children on the "gospel truths that had been taught," a practice designed to "renew our spiritual needs." [4]
Samuel was a school teacher who taught his children the principle of tithing. As Freda remembered, "When my father was teaching school our tithing was sent in regularly to Darbun, Mississippi" the location of the nearest LDS branch. When Samuel retired from school teaching he turned to farming and still remained a faithful tithe payer. "When the crops were gathered and sold," Freda recalled, "the tithing was sent in." [5] Samuel died in 1922 leaving Ardella a widow until her death in 1964.
By W. Paul Reeve
Primary Sources
Beaulieu, Freda Lucretia Magee. Address, 1982 January 16. MS 6938. Church History Library, Church of Jesus Christ of Latter-day Saints, Salt Lake City, Utah.
Church of Jesus Christ of Latter-day Saints, Record of Members Collection. CR 375 8, box 4256, folder 1, images 246 and 451. Church History Library, Salt Lake City, Utah.
United States Census, 1870, 1880, 1900, 1910, 1920. Pike County and Walthall County, Mississippi.
Secondary Sources
Embry, Jessie L. Black Saints in a White Church: Contemporary African-American Mormons (Salt Lake City: Signature Books, 1994), Chapter 3.
---
Documents
Click the index tab in the viewer above to view all primary source documents available for this person.