Beaulieu, Freda Lucretia Magee
Biography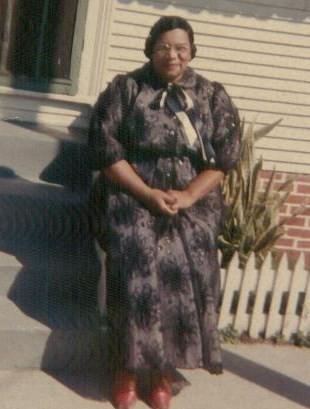 Freda Magee Beaulieu described July 21, 1978, as "the happiest day" of her life. Her assessment of that day is all the more remarkable when one considers that she was 82 years old at the time that she made that claim. Freda would live to be 91 years old before she passed away and yet she considered July 21, 1978, as her happiest day. [1]
Freda's "happiest day" was exactly one month and thirteen days after the public announcement of what is commonly called "the priesthood revelation" in Mormon circles—the opening of the LDS priesthood and temples to peoples of all racial backgrounds. Freda had traveled roughly one thousand miles from New Orleans, Louisiana, to the LDS temple in Washington D.C., and on her "happiest" of days she was sealed by proxy to her husband Pierre Rudolph Beaulieu who had died six years earlier. [2]
It was a day that perhaps Freda thought might never come. It was certainly a day that she had waited a long time to relish, a fact that may have deepened her experience. Freda was nine years old when LDS missionary Ernest Koepsel, a German born immigrant, baptized her in 1909. Elder John W. Gregory from Mapleton, Idaho then confirmed her a member of the Church of Jesus Christ of Latter-day Saints. She was the fourth of eight Magee children and was baptized in a creek near Tylertown, Mississippi, along with her sister Vander and her brothers Percy and Flanders. Freda's mother Ardella and father Samuel had previously converted to Mormonism and now their oldest children where joining too. [3]
For Freda, it would be sixty-nine years and twenty-three days following her baptism into the Mormon faith before she was finally allowed to enter an LDS temple and have her love for her husband Rudolph sealed for eternity. No wonder that Freda declared "July 21, 1978 was the happiest day of my life." [4]
Freda's journey from that creek near Tylertown, Mississippi, to the LDS temple at Washington D.C. is remarkable. As she recalled, "When my parents joined the church, some of the white people were pretty upset and ask[ed], 'what are you doing joining a white church?' There were other remarks made," Freda said, "but none of the criticism kept my parents from living the gospel to the best of their ability. They continued to attend church when possible." The closest LDS branch was at Darbun, Mississippi, a roughly eighteen-mile horse-drawn-buggy-ride away. Freda remembered that branch conference at Darbun was "a highlight in our family. My parents would return from conference and tell us of the gospel truths that had been taught and renew our spiritual needs." [5]
Freda recalled her childhood home to be "a happy home" filled with "fun times," especially when the family would surround the piano to sing and enjoy each other's company. Her home was also the place where she learned to read the scriptures, pray, observe the Word of Wisdom, and pay her tithing. "We always had prayer morning and night and scripture study before going to bed," Freda stated. "Once in a while missionaries would come by and spend some time teaching us more about the gospel." [6]
Freda's father Samuel was a school teacher and then later a farmer and her mother Ardella was a seamstress. Freda fondly remembered her father's faithfulness in always sending his tithing into the local branch. As she described it, "My parents taught us the principle of tithing. When my father was teaching school our tithing was sent in regularly to Darbun." After he retired from school teaching, Samuel turned to farming and as Freda recounted, "when the crops were gathered and sold, the tithing was sent in." [7]
When Freda was twenty-five years old she married Robert H. May Jr., but in her words it "was a very unhappy marriage." [8] She nonetheless "made the best of it." She cared for her husband's five children as if they were her own. Her husband forbid her to go to church because, Freda said, "he hated Mormons." Even still she clung to the principles she learned as a child. As she described it, "I continued my scripture study and prayers. When I was able to get a little money, I put a portion away in my trunk, for tithing." When her husband's children were old enough to "care for themselves" Freda divorced Robert May and moved back to her childhood home. "The money I had been saving in my trunk all those years was joyfully turned in to the church," she said. [9]
At some point, Freda moved to New Orleans, Louisiana, and it was there in 1938 that she married the love of her life, Rudolph Beaulieu. [10] "We later had our marriage blessed in a Latter-day Saint church," Freda reported with some sense of satisfaction: "This was a very happy marriage," she said. "Rudolph was Catholic but he allowed me to attend my church. In fact, he encouraged me to go when possible. He encouraged me to pay my tithing. Rudolph was a kind man and so good to me. He was a musician and I enjoyed hearing him play in the band." [11]
In fact, when Freda fell ill in 1944 it was Rudolph who tracked down Mormon leaders in New Orleans and invited them into the couple's home to give his wife a blessing. Freda did not realize that there was a branch of the church meeting at the Benevolent Knights of America Hall in New Orleans, across from Lafayette Square. She subscribed to the LDS missionary magazine, the Liahona, and sent her tithing into the mission office in Atlanta but was unaware of the local branch. Somehow Rudolph found the branch leaders in New Orleans and called to request a blessing for Freda. [12]
President Robert B. Evans of the New Orleans Branch, accompanied by Parker P. Warner, First Counselor in the South Louisiana District Presidency, arrived at the Beaulieu home somewhat unsure that they were in the correct place because they knew of no black Saints in New Orleans. [13] Warner described the scene this way:
"Sister Freda Beaulieu carried on her face an expression of mixed feelings—anxiety was giving way to confidence which was to be succeeded by relief and gratefulness. President Evans talked to her for a few minutes and she told us she had been a Latter-day Saint all her life, her parents having joined the Church in Mississippi before her time. She had been in New Orleans for many years but did not know of the branch, and having fallen ill, she had written to the mission headquarters in Atlanta in an effort to locate the elders." [14]
While Freda waited for a reply from Atlanta she remained in bed and sometimes "suffered intense pain." Warner and Evans then gave her a blessing, an experience that made a significant impression on both men. Evans remembered it in detail almost thirty years later and Warner wrote it down and submitted it to the Liahona magazine and LDS Church News for publication. [15] "Never in all my life had I felt such confidence in the healing power of faith as I did in that home," Warner declared. "The faith which led Sister Beaulieu to write to Atlanta, and wait patiently through her suffering until those bearing the priesthood could reach her and give her a blessing, was such as I had not witnessed in all my experience. I was astonished at my own confidence in the blessing I pronounced on her head, and when we had sealed that blessing in the name of the Lord, I said to her with all the assurance of one who has absolute knowledge, 'Sister Freda, I know you will soon be well.' She replied, 'Yes, I know it, too; thank you.'" [16]
Warner checked back on Freda a few days later: "'I have been feeling fine,' she said. 'The next day after you were here I got out of bed and have been well ever since.'" [17] Freda then started to attend church at the rented hall and after LDS leaders built their own church on Canal Boulevard she joined them more regularly and became involved in Relief Society work. [18]
In 1982, leaders of the New Orleans Stake asked Freda to speak at Stake Conference. She wrote her talk out but was too nervous to deliver it herself, so she stood in front of the large congregation as someone read it in her behalf. It was in that talk that she declared July 21, 1978 to be the happiest day of her life. It was the day that Robert B. Evans, the branch president who had found her sick in bed in 1944, stood in as proxy for her beloved Rudolph as the couple was sealed together for eternity in the Washington, D.C. temple. [19]
Freda passed away on 5 May 1991 in New Orleans. Her funeral was held at the LDS Church on Canal Boulevard where she had worshipped for so many years. She was then laid to rest at Resthaven Cemetery in New Orleans. [20]
By W. Paul Reeve
Primary Sources
Beaulieu, Freda Lucretia Magee. Address, 1982 January 16. MS 6938. Church History Library, Church of Jesus Christ of Latter-day Saints, Salt Lake City, Utah.
Beaulieu, Rudolph. Marriage to Frettia McGee, 31 January 1938. Louisiana, Parish Marriages, 1837-1957. Family History Library. Microfilm 2,295,616. Church of Jesus Christ of Latter-day Saints, Salt Lake City, Utah.
"Beaulieu," Times-Picayune (New Orleans), 8 May 1991.
Church of Jesus Christ of Latter-day Saints, Record of Members Collection. CR 375 8, box 4256, folder 1, images 246 and 451. Church History Library, Salt Lake City, Utah.
Evans, Robert B. Arlington, Virginia, to Jim (James) Kimball, Salt Lake City, Utah, 20 February 1982. MS 6983. Church History Library, Church of Jesus Christ of Latter-day Saints.
United States Census, 1900, 1910, 1920, Pike County and Walthall County, Mississippi.
Warner, Parker P. "Negro Members of the Church Display Great Faith." The Church News, 16 December 1944, 4.
Warner, Parker P. "South Louisiana District."
Liahona: The Elders' Journal (Independence, MO) vol. 42, no. 12 (November 28, 1944), 286.
Secondary Sources
Embry, Jessie L. Black Saints in a White Church: Contemporary African-American Mormons (Salt Lake City: Signature Books, 1994), Chapter 3.
---
[1] Freda Lucretia Magee Beaulieu, address, 1982 January 16, p. 5, MS 6938, Church History Library, Church of Jesus Christ of Latter-day Saints, Salt Lake City, Utah
Documents
Click the index tab in the viewer above to view all primary source documents available for this person.