Magee, John Earlie
Biography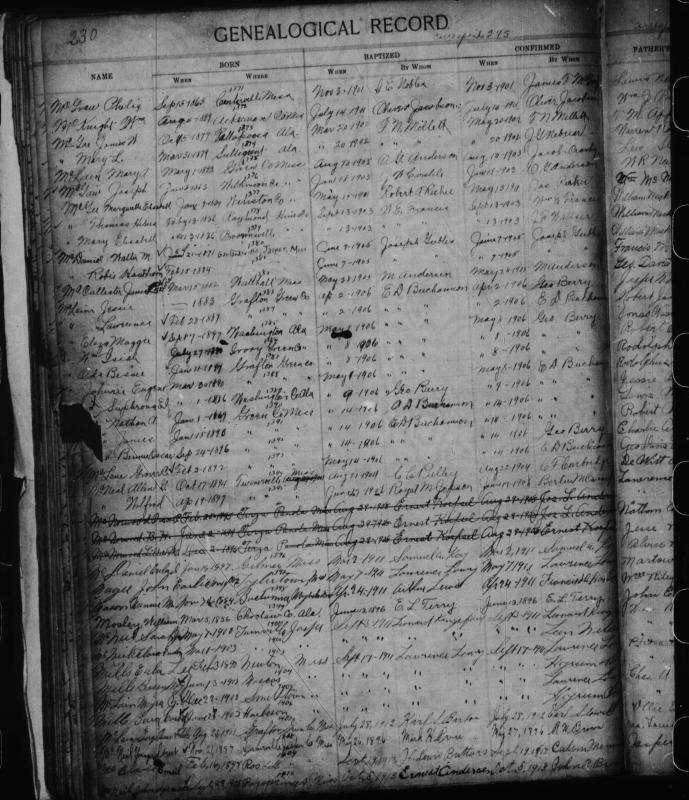 John Earlie was the fifth of eight children born to Ardella Bickham and Samuel Magee. Samuel was the first member of the Magee family to join the LDS Church in 1908 and his wife Ardella followed in 1909. The four oldest children were baptized a few months after Ardella, but John Earlie was not yet old enough. He had to wait until he turned eight, the youngest age at which Mormons baptize. LDS missionary John Lawrence Lowry from Manti, Utah, baptized and confirmed John Earlie on 7 May 1911, six months after his eighth birthday. [1]
The LDS missionary magazine, the Liahona, reported on John Earlie's baptism two weeks later, even though it failed to mention his name. The report signaled that Elder Lowry at least was motivated by Mormonism's mandate to share its message with all people regardless of race:
"In Pike county President Lowry led another honest soul into the waters of baptism. . . . 'Except a man be born of the water and the spirit, he cannot enter the kingdom of God.' For this gospel must be preached to 'every nation, kindred, tongue and people,' and we are thankful that the elders are doing so much for the accomplishment of this work. It is their special mission and God is blessing them in searching out the honest in heart among men." [2]
John Earlie grew up with his siblings in what his sister Freda described as a "happy home" where their parents taught them to read, pray, obey the LDS health code or Word of Wisdom, and to pay tithing. "We always had prayer morning and night and scripture study before going to bed," Freda stated. "Once in a while missionaries would come by and spend some time teaching us more about the gospel." [3]
At some point John Earlie moved to Bogalusa, Louisiana, a town about forty-five minutes south of Lexie, Mississippi where he grew up. He worked as a laborer in Bogalusa for eight years before his tragic and sudden death at 4:30 p.m. on 10 April 1937. John Earlie was single at the time that he died and only 34 years old. The coroner listed "angina pectoris," a symptom of coronary artery disease, as the cause of death. His mother, Ardella, retrieved his body and he was buried at Bogalusa. [4] It was the first of two deaths for the Magee family in 1937. John Earlie's older brother Percy would die in September of the same year, also in Bogalusa.
By W. Paul Reeve
Primary Sources
Beaulieu, Freda Lucretia Magee. Address, 1982 January 16. MS 6938. Church History Library, Church of Jesus Christ of Latter-day Saints, Salt Lake City, Utah.
Church of Jesus Christ of Latter-day Saints, Record of Members Collection. CR 375 8, box 4256, folder 1, images 246, 350, 451. Church History Library, Salt Lake City, Utah.
"Mississippi," Liahona: The Elders' Journal (Independence, MO) Vol. 8, No. 49 (May 23, 1911), 778.
United States Census, 1910, 1920. Pike County and Walthall County, Mississippi.
---
Documents
Click the index tab in the viewer above to view all primary source documents available for this person.